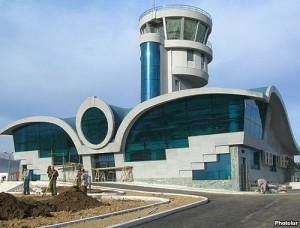 STEPANAKERT — Authorities in Nagorno-Karabakh again have denied that the recent delay in the opening of an airport near Stepanakert is due to warnings that have been made by Azerbaijan, including threats to down aircraft.
The launch of first commercial flights to and from the republic in two decades had initially been announced for May, but was eventually postponed indefinitely as local officials cited 'technical reasons'. The change in the initial plan came after Azerbaijan's repeated condemnation of possible airport operations and threats to shoot down aircraft entering Karabakh without its permission.
Karabakh leader Bako Sahakian this week reiterated that the reason for the delay in the operation of the virtually fully renovated airport was 'technical'.
Still, on Wednesday, Azerbaijani State Civil Aviation Authority director Arif Mammadov was quoted by local media as again warning that flights to and from Karabakh would be illegal as the Interstate Aviation Committee, a body regulating the use of airspace among a dozen former Soviet states, would not issue a corresponding certificate to the Stepanakert airport.
The warning was reportedly discarded in Stepanakert.
In an interview with RFE/RL's Armenian Service earlier this week Karabakh leader Sahakian said: "At the moment we are carrying out additional work related to both the runway and the acquisition and installation of additional equipment, since we make no secret of the fact that we want this airport and its flights to meet international standards. Therefore, we approach this work with particular responsibility."
The Karabakh leader said flights from the Stepanakert airport would commence as soon as technical matters were settled. He added, however, that he could not indicate a precise date yet.
"I would like to note that the matter does not concern international flights, but for now only Stepanakert-Yerevan and Yerevan-Stepanakert flights. We hope that in the future we will also operate international flights," he added.