By Gayane Abrahamyan
ArmeniaNow.com reporter, reporting from Istanbul, Turkey
www.Armenianow.com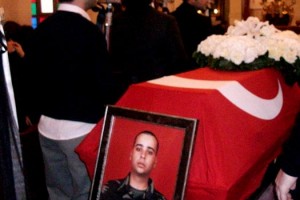 A funeral of an ethnic Armenian serviceman of the Turkish army killed on April 24 took place at Istanbul's St. Vartan Church today amid increased attention from media aware of the sensitivity of the circumstances surrounding the death.
According to the Turkish military police force, 25-year-old Sevak Shahin Balikci was hit by a bullet fired as a result of a fellow soldier's mishandling his weapon.
The General Command of the Turkish Gendarmerie issued a statement earlier this week in connection with the serviceman's controversial death on the day when Armenians around the world commemorated the victims of the Ottoman-era massacres. It said a soldier, who was Balikci's close friend, accidentally pulled the trigger of an automatic weapon while playing with it, thus shooting in the direction of his fellow servicemen repairing a barbed wire damaged through a torrential rain. As a result, Balikci was fatally wounded in the abdomen and could not be saved by doctors after being rushed to hospital.
The ceremony at the Armenian church of the Sisli district of Istanbul had attracted about a thousand people, including Balikci's fellow servicemen and commanders, who came to pay their last respects to the memory of the Armenian who lay in state wrapped in a Turkish flag.
Both Armenians and Turks who had gathered for the occasion had pictures of the 25-year-old pinned to their chests, many said they went though emotions similar to those they had on the day of the assassination of Turkish-Armenian journalist and minority rights champion Hrant Dink in January 2007. But still they stressed Sevak's is likely to have been an accidental death.
Still Sevak's father couldn't check his emotions and was bitterly crying for his only son at the funeral, repeatedly saying in Turkish: "They've slaughtered my son".
Most of the Armenians present at the funeral did not doubt the death was accidental.
"Well, in Armenia they like linking everything to April 24. How can we know what happened in reality? But what I know for sure is that the shooter was his friend," a representative of the local Armenian community, who wished to remain anonymous, told ArmeniaNow.
The Armenian church was crowded this Wednesday afternoon, with high-ranking officers of the Turkish army alone occupying four rows. With their hats in the hands, they stood proudly, listening to an Armenian liturgy.
Numerous Turkish media had come to cover the requiem service for the ethnic Armenian soldier of the Turkish army, some television companies were carrying a live coverage of the event.
Raffi Hermon Araks, a prominent member of the community, described such great media interest in a soldier killed in the ranks in Turkey as "rare".
Araks, who is a deputy of the district council of elders and a senior advisor to the mayor of Princes' Islands, told ArmeniaNow: "Of course, I do not mean to say it as a consolation, but in the Turkish army as well as in all other armies in the world such incidents do happen. But this case generates more attention since it is impossible to overlook the fact that Sevak was an Armenian Christian and the killer was a Turk and that the killing took place on April 24. But it is meaningless to jump to conclusions now. It is too early yet."