By Serouj.Aprahamian
The UN's Intergovernmental Panel on Climate Change (IPCC) will meet in Yokohama, Japan, on March 25-29 to discuss its latest and most comprehensive report on climate change. Made up of leading scientists and experts in the world, the assessment body is the premiere authority on the impact of human-induced changes to the earth's atmosphere.
A draft of the upcoming report has already been leaked and the conclusions are down right frightening.
Increased temperatures are expected to cause major damage to all aspects of the world's food system within the next 20 years and displace hundreds of millions of people by the end of the century. Unless urgent action is taken, the report states, millions of people will be left without food and enormous strain will be placed on global security.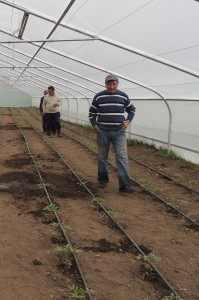 Such consequences pose a particularly grave threat to a country like Armenia, with its mountainous terrain, scarcity of land, arid climate, and economic dependence on agriculture. In fact, the World Bank identified Armenia as one of the most high-risk countries in Europe and Central Asia to changing climate extremes.
Over the last 80 years, there has been a marked increase in the country's temperature and a greater frequency of extreme weather phenomena, such as hailstorms, mudslides, and spring frosts. These changing conditions are already affecting the lives of hundreds of farmers throughout the country.
"Fifteen to twenty years ago, you could easily grow ripe raspberries here," says Lusine Cherkezyan, a farmer and mother of four in the northeastern Armenian village of Hovk. "I would collect 250 kilos of raspberries from my plot in one day alone. But due to changes in the climate we started seeing locusts and irreparable damage occurring. It's impossible for people to grow raspberries here anymore."
Lusine was forced to switch to alternative, less lucrative crops such as cabbage, carrots, or beans. She has struggled to adapt to the changes but it has been tough. Like many others in her village, her husband is forced to work in Russia for several months at a time just to put food on the table.
A few miles north, in the community of Haghtanak, farmers likewise insist that major changes in the weather pattern are already affecting their livelihood.
"The most dangerous issue for us here is out of season frost," says Slavik Zurnachyan the head of an Oxfam-established agricultural cooperative in the town. "We now have to brace ourselves for the threat of frost in the spring which wipe out our harvests. The weather patterns are unpredictable. You can't even imagine it."
Hailstorms have been another major issue for growers in the country. Last May, farmers in the region of Armavir made headlines when they blocked a main highway leading to Yerevan and demanded compensation from the government after their crops were destroyed by hail. A half an hour storm alone is enough to wipe out an entire community's harvest for the year.
These changing conditions pose dangerous risks for the agricultural sector, which makes up one-third of the country's GDP and affects roughly 40% of the economically active population.
As the IPCC report points out, lack of action by governments and the food industry have left many countries unprepared to cope with the impacts of climate change. In the midst of the gloomy picture painted by the report, however, it is also emphasized that early adaptation can make a significant difference in reducing the damage wrought by changing temperatures.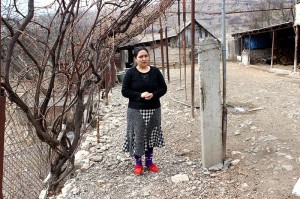 One of the main organizations spearheading community-based climate change adaptation is Oxfam in Armenia. Through their Economic Justice program, they have helped establish 18 agricultural and consumer cooperatives in most climate change prone, borderline and poor communities in Vayots Dzor and Tavush regions of the country, providing the most vulnerable populations with the resources to adapt to changing weather conditions.
Both Lusine and Slavik are members of agriculture cooperatives which operate greenhouses established by Oxfam this past year. They have been able to pool their resources together with others in the community to invest in more appropriate agricultural practices and improve environmental conditions. Access to climatic and weather information facilitated by Oxfam (prov alerts) and the introduction of greenhouse cultivation has also allowed them to better manage production and avoid the damage caused by hydro-meteorological hazards.
For example, although members of the cooperative in Haghtanak were hit hard by hail to their personal plots last year, the collective's greenhouse crops wen unharmed.
"The hailstorms didn't affect the greenhouse at all," says Slavik "The cellophane covering protected our harvest."
In addition to helping build capacity to cope with climate vulnerability, the cooperatives also serve as a source of training, credit, decision-making, and empowerment for community participants, targeting especially women farmers.
"People are starting to understand that the cooperative is a way to solve not only economic problems, but more general societal issues affecting us," says Slavik. "For any one person, it is always harder to solve these challenges by yourself than if you come together with other like-minded people and work together."
As the dangers of a warming climate become even more apparent, it is incumbent for communities to come together and close these gaps in climate preparedness. Giving greater impetus to initiatives such as the Oxfam's Economic Justice program is an important step in this direction. The problem is not only one of environmental and food security but, as can be seen, one that has implications for the nation's demographic and geopolitical security, as well.
There is a lot that can be done to mitigate the threats posed by climate change. But action must be swift if we want to ensure the fate of current and future generations.
Time is not on our side.