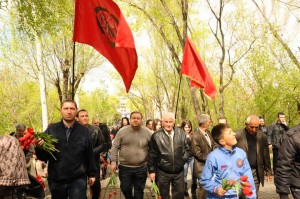 YEREVAN — Hundreds of thousands of people silently marched to a hilltop memorial in Yerevan on Sunday, April 24, 2011, in an annual remembrance of more than one and a half million fellow Armenians slaughtered during the Armenian Genocide committed by Ottoman Turks during World War One.
The day-long procession began in the morning after a traditional prayer service was held at the Tsitsernakabert memorial to the genocide victims by the supreme head of the Armenian Apostolic Church, Catholicos Garegin II, in the presence of top state officials.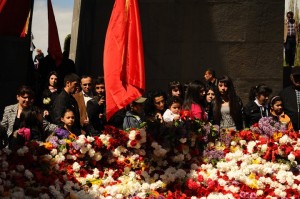 April 24 marks the anniversary of the 1915 arrest of more than 250 Armenian political leaders, intellectuals and artists in Constantinople that was ordered by the government of the Ottoman Empire. Their subsequent executions were followed by mass killings and deportations of Armenians in what is now eastern Turkey and other parts of the crumbling empire. Many of the victims lost their lives in so-called death marches to the Syrian desert.
The stark memorial perched on Tsitsernakabert Hill overlooking central Yerevan is the focal point of the annual genocide commemorations in Armenia and the Armenian Diaspora communities around the world.
A large delegation of S.D. Hunchakian party members led by Armenian former Deputy Defense Minister and current S.D.H.P. Central Committee board member Vahan Shirkhanian and Armenia branch Chairman Gevork Bergoubekian and various S.D.H.P leaders and activist from the Diapora visited the memorial to lay flowers at the eternal flame.