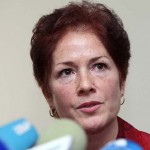 YEREVAN — The United States is closely monitoring political developments in Armenia but has no intention to mediate between its rival political factions, the U.S. ambassador in Yerevan, Marie Yovanovitch, said on Wednesday.
"How the internal political process in Armenia works, discussions between various parties or actors, I think that's something for Armenians to work out among themselves," she said. "I don't think there is really a role there for the U.S. government."
Yovanovitch spoke amid what appears to be mounting political uncertainty in the country stemming from a new campaign of antigovernment protests launched by the opposition Armenian National Congress (HAK) last month.
At the same time, there have been some indications that the HAK and President Serzh Sarkisian's administration are ready to negotiate over some opposition demands.
"I know there is a lot of speculation about that [dialogue,]" Yovanovitch told a news conference at the NATO Information Center in Yerevan. "If, in fact, the internal political process in Armenia was less tense, shall we say, that's something that we would only applaud."
In that context, she welcomed last week's release of two more HAK loyalists who were imprisoned following Armenia's disputed 2008 presidential election. "We encourage that process to continue to move forward," she said.
Speaking at Yerevan State University late last month, Yovanovitch urged the Armenian authorities to hold free elections, respect civil liberties and embark on other "deep and difficult" reforms. In particular, she stressed the importance of "ensuring that peaceful, lawful assemblies will not be harassed or broken up."
Pro-opposition media outlets portrayed the speech as an indication that the United States will now press harder for Armenia's democratization.
Yovanovitch stood by her statements and said they simply reflect Washington's support for transparent and accountable governance around the world. "Ultimately, it's for the people of each country to decide whether its government is moving forward and governing in an accountable way," she said.