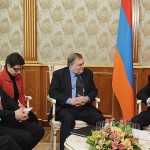 YEREVAN — Senior representatives of the Council of Europe's Parliamentary Assembly (PACE) have called on the Armenian authorities to free opposition members remaining in prison and properly investigate the 2008 post-election violence in Yerevan.
In a written statement issued late Wednesday, the PACE's co-rapporteurs for Armenia, John Prescott and Axel Fischer, said that would ease lingering political tensions in the country.
"The ongoing detention of persons for their role in the March 2008 events, as well as the lack of a proper inquiry into the causes of the 10 casualties that occurred during these events continue to poison the political environment in Armenia," they said.
"This risks having a negative impact on next year's elections," they added. "We therefore call upon the authorities to show the necessary political will to satisfactorily resolve these issues without further delay."
The two men met with President Serzh Sarkisian, other senior Armenian officials, opposition leaders and civil society representatives on a fact-finding visit to Yerevan last week. They avoided contacts with local media.
Currently six oppositionists political prisoners who were arrested in 2008 remain behind bars. The most prominent of them are Nikol Pashinian, the editor of the "Haykakan Zhamanak" daily, and Sasun Mikaelian, a former parliament deputy. Another Ter-Petrosian loyalist was arrested on controversial charges earlier this month.
Prescott and Fischer gave no indication that the Sarkisian administration will come under stronger PACE pressure if it drags its feet in the next few months. They said they will submit a report to the PACE in September.
This means that the Strasbourg-based assembly will almost certainly again avoid discussing the political situation in Armenia at its next two sessions due in April and June.