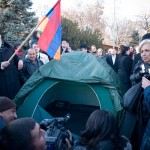 YEREVAN — Supporters of hunger-striking opposition leader Raffi Hovannisian gathered near him today in Yerevan's Liberty Square and, in defiance of municipal order, erected up a small collapsible tent intended for the Heritage party leader to rest as he completes the ninth day of his "freedom fast".
It comes after a group of activists sent a public petition to the president, demanding to instruct the police to allow them setting up an umbrella or a tent, where Hovannisian could get shelter instead of spending the night in the open air.
MP of the Heritage party Zaruhi Postanjyan said that the police did not intervene because there was a big crowd there.
The crowd gathered near the tent surrounded by Heritage MPs was waiving Armenia's tricolor flag, singing the country's anthem.
On Tuesday the police hindered efforts by Heritage members to set up an umbrella on Liberty Square for Raffi Hovannisian, tearing apart the umbrella and taking away its metal poles.
In the meantime, Postanjyan did not rule out that the police might come up with unexpected steps.
"The police are controlled from Baghramyan 26 [the presidential administration]. [And] I can't say what atmosphere there is in Baghramyan 26," she added.