STEPANAKERT — The U.S., Russian and French mediators who went to Karabakh on May 17, were met with protests in the Kashatagh area of Berdzor (former Lachin). The protesters were holding placards with slogans such as "We made our choice in 1991", "Respect democratic principles", You are responsible", "Respect our rights", "Condemn the aggressor."
The protesters, virtually all of them residents of the town and nearby villages that used to be populated by Azerbaijanis, condemned the mediators' most recent statement that stressed, among other things, the need to return to Azerbaijan the Armenian-controlled territories surrounding Karabakh. They were also angry at similar calls that were separately made by James Warlick, the U.S. co-chair, in a speech delivered earlier this month.
"We want the co-chairs to know that we gained independence in 1991 and our lands cannot be a subject of haggling," said one young man. "They need to understand that we are the masters of our land."
"Should Armenians again be deported? That's absurd," another protester said, referring to one of the Basic Principles of resolving the Nagorno-Karabakh conflict put forward by the United States, Russia and France.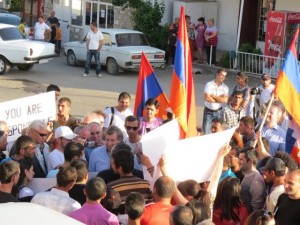 James Warlick was asked how he imagines return of the refugees to Nagorno-Karabakh.
"Safarov was also so-called refugee from Nagorno-Karabakh. How do you imagine their return? Agression continues, and Safarov case is another proof," one of the residents told Warlick.
In response the OSCE diplomat recalled his statement, underscoring that "all six elements are necessary for peace" and none of them can be taken out.
"We respect the rights of those who demonstrate peacefully even when we disagree," Warlick tweeted afterwards. "In Lachin, I listened," he said, posting a picture of himself talking to the protesters.
Speaking to reporters in Stepanakert on Sunday, Warlick said he was surprised by the unprecedented protest but called his conversation with its participants useful. "Nagorno-Karabakh is so beautiful and I'm so impressed to see so many young people," he said. "It's our duty to ensure … this new generation lives in peace."
"We are not coming here to impose any settlements," Warlick stressed. A compromise peace deal must be acceptable to all conflicting parties, he said.
In his May 7 speech, the U.S. envoy listed the six key elements of the framework peace accord drafted by the mediators. One of them, he said, stipulates that "the occupied territories surrounding Nagorno-Karabakh should be returned to Azerbaijani control."
The mediators travelled to Karabakh on the second leg of the latest round of their shuttle diplomacy aimed at kick-starting the stalled peace process. They met with Armenia's President Serzh Sarkisian, Foreign Minister Edward Nalbandian and Defense Minister Seyran Ohanian in Yerevan on Friday.
The diplomats proceeded to Baku on Monday through one of the most volatile sections of the Armenian-Azerbaijani "line of contact" around Karabakh. They monitored the ceasefire regime there before crossing into Azerbaijani-controlled territory.