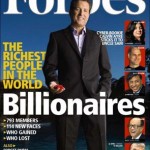 NEW YORK — The Forbes magazine has revealed the wealthiest people in the world, with 93-year-old Armenian American billionaire Kirk Kerkorian as the richest Armenian.
Kerkorian's fortune is estimated at $3.5 billion.
Four more Armenians, who are based in Russia, were included in the Forbes Rich List. These are brothers Sergey and Nikolay Sarkisov, co-owners of RESO-Garantiya insurance company (collectively holding some $3 billion; and Danil Khachaturov, Russian insurance giant Rosgosstrakh CEO ($1.5 billion); and Samvel Karapetian, Tashir group founder ($1.4 billion).
Mexico's Carlos Slim, the telecoms magnate, tops the list for the second consecutive year. His fortune grew by more than a third to $20.5bn to $74bn, beating Microsoft founder Bill Gates ($56bn) and investment guru Warren Buffett ($50bn) who are second and third respectively.