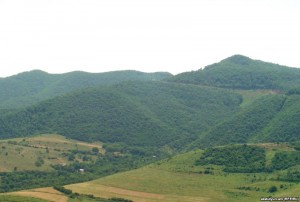 STEPANAKERT — Authorities in Nagorno-Karabakh have begun building a second highway that will connect the territory with Armenia.
Passenger and cargo traffic between the two entities has until now been carried out through a highway running across Lachin.
The Lachin road stretches for more than 80 kilometers from the Karabakh capital Stepanakert to the southeastern Armenian town of Goris. It was built in 1997 with the financial assistance of the Armenian Diaspora and U.S.-Armenian billionaire Kirk Kerkorian in particular.
Officials in Stepanakert say the second overland link will also be roughly 80 kilometers long. It will connect Karabakh's northern Martakert district to Gegharkunik province in eastern Armenia through Kelbajar.
"We will not depend only on the Goris-Stepanakert road," Ara Harutiunian, the prime minister of the Nagorno-Karabakh Republic, told journalists as he inaugurated the start of the construction work earlier this month.
Harutiunian estimated the total cost of the project at "several billion drams" (at least $10 million). He said it will be financed by Base Metals, an Armenian company mining gold and copper in Martakert, and the Karabakh government.
Karabakh officials admit that the new road will greatly benefit Base Metals as it will significantly shorten the distance between the area and Armenia and thus reduce the company's transportation costs. They also anticipate a major boost to the socioeconomic plight of hundreds and possibly thousands of Armenians who have settled in Kelbajar since 1994.
"You can't imagine how happy I was when they started the construction," one settler told RFE/RL's Armenian service (Azatutyun.am) on Friday.
"It now takes six or seven hours to go to [to the nearest Armenian town of] Vartenis and get back here through the existing atrocious road," he said. "But after they rebuild the road, we will need only 30 minutes to reach Vartenis."
"It will have a great commercial and economic significance for this district," said another man.
Petros Hakobian, an official at the district administration governing the settlements, went as far to predict an influx of tourists into the mountainous and picturesque area.
"People will open cafes and hotels as the road will also contribute to the development of tourism here," Hakobian told RFE/RL's Armenian service.
Work on the new road is due to be completed within two years. Still, Karabakh officials say trucks and other vehicles will be able to use it already next March. A recently established coal mine in Martakert is expected to start production operations around that time.