Glendale, California – Appointed by President Barack Obama and confirmed unanimously by the United States Senate to one of the most elite federal positions, United States Attorney André Birotte Jr. was the featured speaker at a standing room-only gathering organized by the Armenian Bar Association on February 24, 2011.
With more than 200 judges, lawyers and law students in attendance at the Phoenicia restaurant in Glendale, California, the Armenian Bar Association recognized Mr. Birotte for his dedication to public service and for his sustained commitment and contributions to law enforcement, victims' and civil rights, public integrity, and the legal profession.
In the words of Armenian Bar Association Chairman Edvin Minassian, "The enthusiastic response of the capacity crowd reflects the Association's deep devotion to professional excellence and, just as importantly, to our firm commitment to the Armenian community and to the rule of law." Mr. Minassian expressed his organization's resolve and successful results in acting as the community's gatekeeper for the protection of its rights and the education about its responsibilities.
Garo Ghazarian, Armenian Bar Association Vice-Chairman, and Dean of the Peoples College of Law, served as Master of Ceremonies with a smooth and perfect blend of humor and respectfulness. The large gathering was addressed by Chairman Edvin Minassian, Board members Hovanes Margarian and Assistant United States Attorney John J. Lulejian, who delivered an inspiring introduction of Mr. Birotte.
Rising to the podium to a rousing ovation, Mr. Birotte singled out the Armenian Bar Association for its unique and valuable leadership position in legal and local institutions and causes. "It is important to work with our community," said Mr. Birotte and continuing with "coming from Haiti, I would always remember the emblem associated with their flag, 'With unity we build strength,' and this is a statement that lives with me today, and will continue to. That saying has been a major guideline in my life, and a major guideline we work by." Mr. Birotte looked to Armenian Bar Association for helping bring unity and strength to the Armenian community. On a personal note, he expressed great praise and respect for former Armenian Bar Association Board member United States Magistrate Judge Jacqueline Chooljian who guided and mentored the rising star when both were Assistant United States Attorneys.
In attendance was a full roster of judicial leaders and law enforcement brass on both the federal and state levels, elected officials, as well as a wide spectrum of leaders and representatives from the Armenian community, including Los Angeles City Attorney Carmen Trutanich, Archbishop Hovnan Derderian—Primate of the Western Diocese of the Armenian Church of North America, former Los Angeles County District Attorney Robert Philibosian, Magistrate Judge Chooljian, and retired United States District Judge Dickran Tevrizian.
Los Angeles County Superior Court Judges in attendance included Site Supervising Judges of Los Angeles County Superior Courts in the cities of Burbank and Glendale, Patrick Hegarty and Fred Rotenberg, respectively; Kevin Brazile, Soussan Bruguera, Ruth Kwan, Mark Mooney, and Armenian Bar Association past Chairman Zaven Sinanian. Both Judge Brazile and Judge Sinanian are on the Board of the California Judges Association. Also in attendance were Michael Garcia, the Chief Assistant City Attorney of Glendale, Gary Schram, Chief of the Los Angeles City Attorney's Bureau of Investigation and President of the California Police Officers' Memorial Fund, Wayne Williams, Special Agent in Charge, United States Secret Service, Briane Grey, Assistant Special Agent in Charge, Drug Enforcement Administration ("DEA"), Jon Goldberg, DEA Assistant Special Agent in Charge, Sergeant Thomas Lorenz, Adjutant to the Glendale Chief of Police, Sergeants John Gilkerson and Tigran Topadzhikyan of the Glendale Police Department, Assistant United States Attorney Lawrence Middleton, Chief of Public Corruption and Civil Rights Section of the United States Attorney's Office, Felipe Plascencia, President of the Mexican American Bar Association's Political Action Committee, Ara Najarian, current mayor of Glendale, Consul General Grigor Hovhannissian and Deputy Consul General Mesrop Shaboyan from the Republic of Armenia in Los Angeles, Rafi Manoukian, past two-term Mayor of Glendale, and a current Commissioner of the Burbank-Glendale-Pasadena Airport Authority, and Nayiri Nahabedian, Board Member of the Glendale Unified School District.
In September 2009, President Obama appointed Mr. Birotte to the top federal prosecutor post in all of Southern California, whose district includes seven counties, Los Angeles, Orange, Riverside, San Bernardino, San Luis Obispo, Santa Barbara, and Ventura, and a population that is the largest of any district in the country. For much of the past decade, Mr. Birotte has served in capacities of increasing responsibility in the Los Angeles Police Commission's Office of Inspector General. Before assuming his administrative duties as Inspector General, Mr. Birotte served as Assistant United States Attorney and as a deputy public defender in Los Angeles. He is a graduate of Tufts University and the Pepperdine University School of Law.
The 22nd Annual National Meeting of the Armenian Bar Association is being held from April 29, 2011 to May 1, 2011, at the Marriott Union Square, in San Francisco, California. Among the special attractions will be the attendance and participation of members of the California Supreme Court, including Chief Justice Tani Cantil-Sakauye and Justice Marvin Baxter. This year's other very special guest will be Hrair Tovmasyan, the Justice Minister of the Republic of Armenia. Last year's annual national meeting which was held in Chicago drew an affluent audience of lawyers and jurists and the 22nd Annual National Meeting in San Francisco will continue that high standard. Members and non-members may register online (www.ArmenianBar.org). For further information, contact [email protected].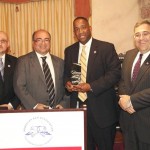 Photo Caption: ArmenBar members present a plaque to United States Attorney André Birotte Jr.
From left: Vice-Chairman Garo Ghazarian, Chairman Edvin Minassian, United States Attorney André Birotte Jr., and Assistant United States Attorney John J. Lulejian