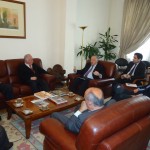 Social Democratic Hunchakian Party Central Committee Board Chairman Setrak Adjemian, along with Board Member and former Deputy Defense Minister of Armenia Vahan Shirkhanyan, led a delegation of France's SDHP Central Committee in distinct meetings with Archbishop Norvan Zakarian, Primate of the Diocese of the Armenian Apostolic Church of France, Armenia's Ambassador to France, Vigen Tchitechian, as well as permanent representative of Nagorno-Karabakh Republic to France, Hovhannes Gevorgyan.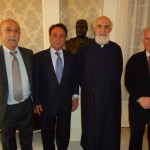 During their meeting with Archbishop Zakarian, the SDHP delegation discussed the continued endeavor in the Armenian Diaspora for the preservation of the Armenian culture and identity.
During the meeting with Ambassador Tchitechian, SDHP leadership proposed the formation of a Pan-Armenian Council, to be utilized in establishing better communication and relations between the Diaspora and Armenia. It was further stated that the Pan-Armenian council should be formed with the participation of Armenia, NKR, the traditional political parties operating in the Diaspora, representatives of communities, as well as prominent Armenians.
The conversation between the representative of the Republic of Artsakh, Hovhannes Gevorgyan and the SDHP leadership, emphasized the increased cooperation between the SDHP structures worldwide and the government of Artsakh, with efforts of the former specifically in France, as well as Europe to raise the right of self determination of the people of Artsakh, as well as combat the continued propaganda campaign against that right.
The meetings proceeded a conference-debate on March 25 titled, "Peace and Security in the Caucasus: What is the Future of the Region?" The conference-debate was organized by France's Social Democrat Hunchakian Party Central Committee and the Armenian Council of Europe and was held at France's National Assembly (the lower house of Parliament of France).