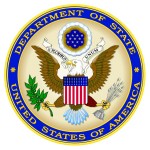 WASHINGTON, DC — At today's briefing for foreign journalists Assistant Secretary Philip Crowley commented on the visit of Deputy Secretary of State James Steinberg to Azerbaijan and Armenia.
The U.S. would like to see countries in the region resolve their differences in cases, open borders, and construct more normal relationships, he said. However, they understand over the last year or so that the process has stalled.
One of the objectives of James Steinberg's visit to Yerevan and Baku was "to continue to engage these countries and encourage them to find ways to address the lingering concerns and differences that do exist between Armenia and Azerbaijan, and also involving other countries in the region", Crowley added.
As to relations between Ankara and Yerevan, the Assistant Secretary noted they cannot want something more than the countries themselves, but certainly will continue to try to find ways to reduce tensions, help move these processes forward. "But we understand that right now, these are difficult situations," he said.
Deputy Secretary of State James Steinberg visited Armenia, Georgia and Azerbaijan on February 23-25.