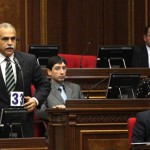 YEREVAN — Lawmakers representing the opposition Zharangutyun (Heritage) party demonstratively walked out of Armenia's parliament on Monday, accusing President Serzh Sarkisian of seeking to illegally prolong his rule.
In a speech preceding the walkout, Zharangutyun leader Raffi Hovannisian joined other prominent opposition figures in condemning Sarkisian's new power-sharing agreement with his junior coalition partners.
In a joint declaration signed on February 17, Sarkisian's Republican Party (HHK) and the Prosperous Armenia and Orinats Yerkir parties pledged to campaign for the incumbent president's reelection in 2013.
The governing parties also made clear that they will not seek to change "correlation of forces within the Coalition" in parliamentary elections due in May 2012. They expressed confidence that they will have even more seats in Armenia's next parliament.
The ruling coalition controls at least 100 seats in the current 131-member National Assembly. Critics say the coalition forces effectively committed themselves to predetermining the election outcome and further reducing opposition presence in the parliament at any cost.
Hovannisian echoed those claims, calling the coalition deal "unconstitutional" and saying that Sarkisian is keen to stay in power for seven more years. "The message to the Armenian society was that 'L'Etat c'est moi' — the state is me and nothing can be done against me," he told the National Assembly.
"Unfortunately, the existing correlation of forces between the majority and the opposition doesn't satisfy the [governing] party leaders, and they have set their sights on these few opposition seats. There is no need to rig another election. As the Holy Mass says … take it and eat it, this is your heritage," Hovannisian said.
The Zharangutyun leader finished his speech amid angry shouts from members of the parliament's pro-presidential majority. "Dear colleagues, I share your indignation," Samvel Nikoyan, a deputy speaker presiding over the session, told them.
In a statement issued later in the day, Zharangutyun said its governing body will meet this weekend to discuss the party's "further strategy and tactics" in the parliament. According to Stepan Safarian, a senior Zharangutyun lawmaker, among the options under consideration will be a permanent boycott of parliament sessions and even a formal surrender of its six parliament mandates.