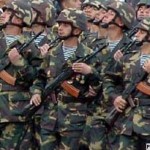 YEREVAN — One officer and three soldiers have been arrested in connection with yet another non-combat death in the Armenian army ranks, the Defense Ministry said on Friday.
Gevorg Kotinian, a 19-year-old conscript, was found dead on February 6 at an army unit stationed in Nagorno-Karabakh. Military investigators say he was beaten to death by fellow soldiers.
According to the Defense Ministry's Investigative Service, two of those soldiers have been taken into custody and could be charged with involuntary manslaughter. A spokesperson for the service told RFE/RL's Armenian service that their immediate commanders, a lieutenant and sergeant, have also been arrested. They are suspected of "inactivity" and abuse of power.
Defense Minister Seyran Ohanian was challenged to comment on Kotinian's death during the Armenian government's question-and-asnwer session in parliament on Wednesday. Ohanian told lawmakers that he will do his best to ensure that the case is solved and all guilty servicemen are punished.
The deadly incident dealt a further blow to the Armenian military's assurances that it is combating army crime in earnest. Ohanian has personally pledged to strengthen the army discipline on numerous occasions in recent months. Dozens of military personnel have been arrested, fired or demoted since August.
Still, human rights groups and families of dead soldiers continue to assert that the military authorities are not doing enough to tackle the problem. Late last month, President Serzh Sarkisian was publicly confronted by angry parents alleging a cover-up in the criminal investigations into the violent deaths of their sons.
Speaking to the protesters, Sarkisian promised to pay "special attention" to those inquiries. He said Armenia's new military prosecutor, Gevorg Kostanian, will meet with them and look into their grievances.