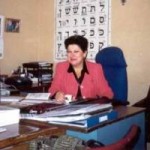 YERVAN — The Israel Counter Terrorism Bureau issued a warning Friday to Israeli citizens saying traveling to certain states may pose threat on the occasion of third anniversary of the assassination of Hezbollah leader Imad Mughniyah.
The report says the most dangerous for Israelis are Armenia, Azerbaijan, Georgia, Egypt, Turkey, Côte d'Ivoire, Mauritania and Venezuela.
Israeli citizens are recommended to avoid places with a high concentration of Israelis, newsru.co.il reported.
The head of the Jewish community Rima Varzhapetyan-Feller labeled a provocation Armenia's inclusion in the list.
"This is provocation. Armenia is a tolerant state and the situation is quite in the country. The spread of such kind of information aims at hindering development of tourism in the country. I am not engaged in political and security issues. At the moment everything is quite in the country. Nothing poses a threat to the Jewish community in Armenia," she told Armenian News-NEWS.am.
Asked whether the Jewish community conveyed discontent to the state of Israel and for this reason Armenia was included in the list of major threats for Israel, she said: "There is no such thing. We did not make any statements," she stressed.