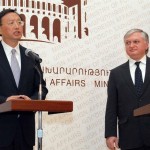 YEREVAN — China regards Armenia as a "trustworthy and reliable friend" and wants to strengthen bilateral ties in all areas of mutual interest, Chinese Foreign Minister Yang Jiechi said during a visit to Yerevan on Thursday.
President Serzh Sarkisian and other Armenian leaders similarly expressed their readiness to step up cooperation with the world's most populous nation that has become Armenia's second most important trading partner.
"Both sides agreed that new opportunities are now opening in the development of our relations," Yang said. "And we believe that a further strengthening of Chinese-Armenian relations, friendship and cooperation … corresponds to the fundamental interests of China and Armenia and our peoples."
"We are interested in elevating Chinese-Armenian relations of friendship and cooperation to a new height together with our Armenian partners," he told a joint news conference with Armenian Foreign Minister Edward Nalbandian.
The Armenian presidential press service quoted Yang as telling Sarkisian later in the day that the two countries have identical positions on "a number of very important international and regional issues."
"Armenia is interested in deepening relations with China," Sarkisian said, for his part. "We are also interested in a further expansion of Chinese involvement in economic processes going on in our region."
Both the Armenian president and his prime minister, Tigran Sarkisian (no relation), visited China last year. The president personally inaugurated a Chinese-Armenian chemical joint-venture in the Shansi province, a fact emphasized by the two foreign ministers.
With China now accounting for about 10 percent of Armenia's foreign trade, economic issues were high on the agenda of Yang's talks. The volume of Chinese-Armenian trade, dominated by imports of Chinese goods, soared by 55 percent to $390 million in January-November 2010. Armenian exports to China, though still modest in absolute terms, nearly doubled in that period.
A statement issued by Tigran Sarkisian's office said the Armenian prime minister and Yang agreed at their lunch meeting that there is "great untapped potential" in bilateral commerce. It said they also discussed "the Chinese side's interest" in an ambitious project to build railway connecting Armenia to neighboring Iran.
Transport Minister Manuk Vartanian revealed last June that Yerevan is seeking as much as $1 billion in loans from China to finance the railway's construction. No concrete agreements to that effect have been announced yet.
The Armenian government underlined its desire to forge closer links with Beijing last week when it significantly facilitated visa requirements for Chinese citizens visiting Armenia. They will now be able to receive Armenian visas at Yerevan airport and the country's border crossings.
"I am confident that the Chinese foreign minister's visit will give new impetus to the deepening of cooperation between our friendly states in various spheres," Nalbandian told journalists.
Nalbandian praised Beijing's "balanced" position on the Nagorno-Karabakh conflict and reaffirmed Yerevan's continued adherence to the "one-China policy" that excludes any direct contacts with Taiwan.