NEW YORK — Music truly acts as the ultimate universal language, making geographical distances nonexistent and bringing cultures closer. This summer, Armenian and Asian folk traditions merged with effortless synchrony through a series of concerts and captivating lectures in China and Japan.
Organized by the AGBU Performing Arts Department, these events expanded the reach of Armenian culture to the Far East and promoted artistic collaborations. "This tour was yet another demonstration of our mission to bring Armenian heritage closer to global audiences and support aspiring talents," said pianist and AGBU PAD Director Hayk Arsenyan.
The series commenced with a sold-out concert hosted by AGBU and the Cadillac Shanghai Concert Hall in Shanghai, China, on May 28. Its title, "Sounds of the Silk Road: From Armenia to China," spoke of the essence of the Chinese-Armenian connections dating back to the Medieval Times when the Silk Road boosted trade between the two nations. "After living in Shanghai for years, I have realized that Armenia and China have a lot of similarities: Both countries have centuries-old history, great cultural heritage and wonderful traditional music," said Astghik Poghosyan, the concert's artistic director who also serves as an assistant to the president of the Shanghai Symphony Orchestra. "It is important that we continue to promote and share our culture in other countries because Armenian culture has so much to offer and we should do our best to share it with as many people as possible. I hope we will get more chances to do that in Asia."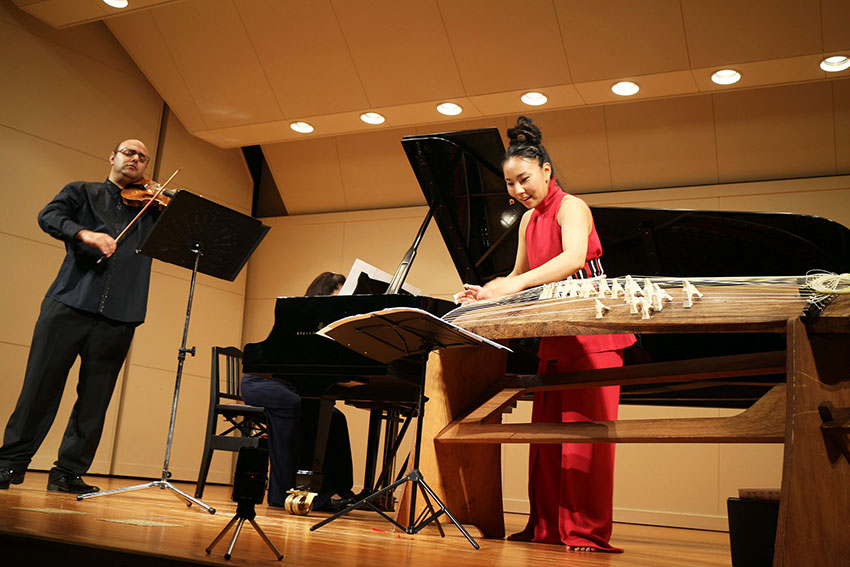 Musicians from Armenia, China, France, Indonesia, Malaysia, and the United States offered a unique program, a fusion of Armenian and Chinese folk melodies, played either as separate pieces or mixes on western classical and traditional Chinese instruments. "It was the first time I used a traditional Chinese instrument to play another country's folk music," Liu Yu Xian, a guzheng player, said. "I feel very happy and honored to get this chance and learn about this culture."
This concert also marked the continuation of the fruitful collaboration between the Shanghai Conservatory of Music and AGBU which began in 2015 when the conservatory's students arranged a traditional Armenian song for the 8th AGBU Performing Artists in Concert at Carnegie Hall (NYSEC).
The tour continued with a concert titled "East and West Music" at the Tsunohazu Kumin Hall in Tokyo, Japan, on June 1. Organized by AGBU and Arev Arts Ensemble and Foundation, the concert was part of the Week of Armenian Culture in Tokyo, regularly hosted by the Embassy of Armenia in Japan. This cultural event offered a glimpse of Armenian heritage to audiences in Japan—a country where Armenians historically did not have a strong presence, and a tiny community was formed recently. "For the past several years, the Embassy of Armenia in Japan has been organizing the Week of Armenian Culture in Tokyo. Artists, musicians and craftsmen from Armenia and the diaspora, as well as friends of Armenia from Japan showcase their art and perform bridging cultures, celebrating the friendly ties between the two countries. This year, we were happy to have the AGBU Performing Arts Department as our valuable partner," noted Armenia's Ambassador to Japan Grant Pogosyan. He went on saying that thanks to outstanding performances and lectures, locals had an opportunity to better understand Armenian culture.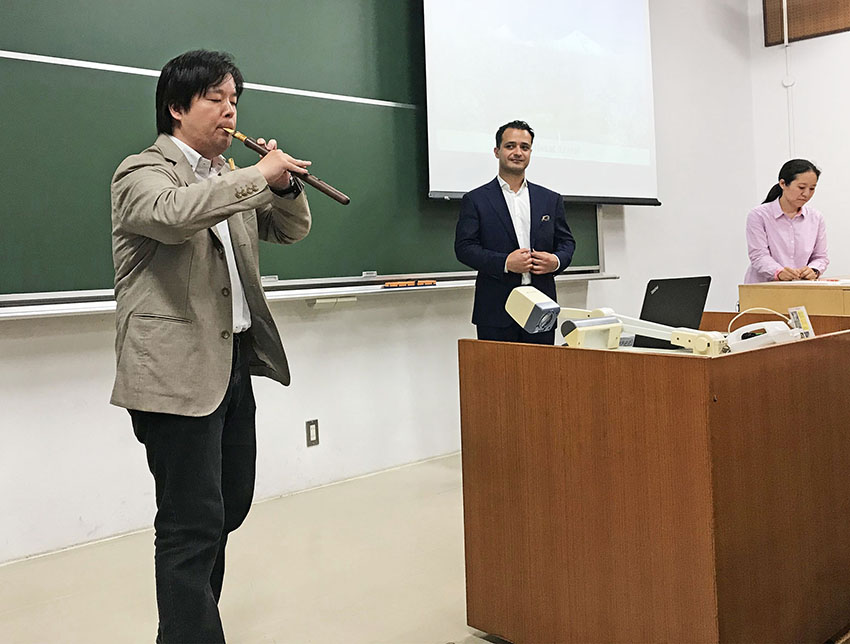 The evening featured well-known musicians from Armenia, Japan, Spain and the United States who played on the piano, violin and koto (Japanese harp). "I hope our cooperation with the AGBU Performing Arts Department will continue and give us more opportunities to present Armenian culture in Japan," said Karen Israelyan, director and founder of Arev Arts Ensemble and Foundation.
Concerts were followed by lectures—delivered by Arsenyan—first at Hong Kong University and then at Tokyo's Waseda University, the second largest university in Japan. His talks focused on Armenian history, culture, music, and various AGBU programs, including the AGBU Musical Armenia Program. Yas Tarumi, a duduk player from Japan, joined Arsenyan to play traditional and classical Armenian music at Waseda University. "This was a great occasion to introduce our music and culture to the people in Asia through unique interpretations of our folk melodies," concluded Arsenyan.