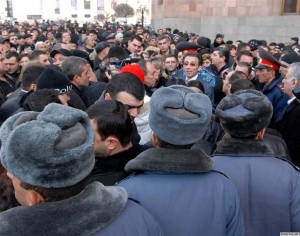 YEREVAN — Hundreds of traders selling clothing in retail markets in Yerevan rallied outside the Armenian government headquarters on Tuesday to protest against a doubling of transportation and other fees paid by them through private shipping companies.
The traders, who mostly purchase and import their goods from Turkey, have until now paid those companies an equivalent of $4 per kilogram of clothes and shoes sold at their market stalls.
The fee includes shipping costs and taxes paid by the shippers to the Armenian customers. It was raised to $8 per kilogram early this month.
The sharp rise took the traders off the guard. Many of those demonstrating outside the main government building in Yerevan said they were in Turkey when it was announced. "They deceived and sent everyone to Istanbul before announcing that the new fee will be $8," one angry man told RFE/RL's Armenian service.
The protesting traders said the price hike will lead them to ruin. "We pay 30,000 drams ($83) per square meter of space in the markets, plus the daily fee," said one of them. "How can we pay more?"
"Let us earn a living, and you keep getting rich," he added, appealing to top government officials.
Other protesters also blamed the government for the sharp increase. They demanded an urgent meeting with Prime Minister Tigran Sarkisian.
However, a senior official from the prime minister's staff, who met the protesters, laid the blame on the shipping firms, insisting that the government did not raise import duties or any taxes.
"In this case, the government can only act as a mediator," the official, Aleksandr Sargsian, told the angry crowd. "We will try to first understand what the problem is all about and what can be done. We are in the process of doing that."
Many traders believe that the tariffs were doubled under government pressure. They also say that the shipping firms are owned by government-connected individuals.
With the shippers refusing to comment on the controversy, it is not unclear just how much they pay to the customs service, one of Armenia's least transparent government agencies. Under Armenian law, importers must pay a 10 percent customs duty and a 20 percent value-added tax.
The Armenian customs has a discretionary authority to determine the market value of imported goods practically at will. State revenues collected by it may thus rise or fall significantly without any changes in tax rates.