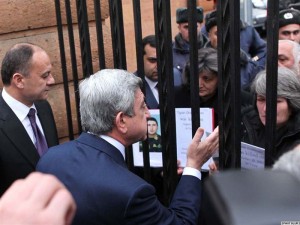 YEREVAN — President Serzh Sarkisian promised "special attention" to criminal investigations into non-combat deaths within the Armenian army ranks on Thursday as he was confronted by angry parents of dead soldiers demonstrating outside his office.
The protest marred an award-giving ceremony dedicated to the 19th anniversary of the official formation of Armenia's armed forces. Sarkisian handed medals to more than 30 army officers on the occasion.
As they lined up on the steps outside the presidential palace in Yerevan for a photo session with the president, the participants heard chants and shouts from more than a dozen people standing at the railing gates of the compound. The protesters demanded action against what they called an official cover-up of the deaths.
Sarkisian approached them moments later to assure them that he is more interested in solving them than anyone else. He cited the recent change of Armenia's chief military prosecutor as further proof of the Armenian authorities' intention to step up their crackdown on army crimes.
Defense Minister Seyran Ohanian was on hand to give similar assurances. "Mr. President, I want to inform you that all criminal cases are under control and that I am personally dealing with them," he said, according to the Tert.am news service.
Sarkisian said that he will order the new prosecutor , Gevorg Kostanian, to meet the protesters and look into their grievances.
Armen Arzumanian, the presidential press secretary, told RFE/RL's Armenian service that the meeting took place later in the day. He said it was agreed that Kostanian will also hold separate meetings with the grief-stricken parents.
The parents say that military investigators falsely portrayed the violent deaths of their sons as suicides or accidents and failed to seriously punish anyone. One of those soldiers, Tigran Ohanjanian, was found dead near his military unit in 2007.
"According to the official theory, my son was accidentally electrocuted to death, but I insist that he was killed because there were traces of violence on his body," Ohanjanian's mother, Gohar Sargsian, told News.am.
The problem has had a greater public resonance of late because of a spate of non-combat deaths and other violent incidents involving military personnel. Dozens of officers have been arrested, fired or demoted since August.