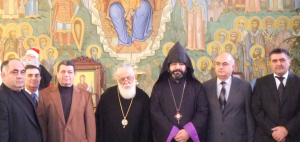 TBILISI — Representatives of the Armenian community of Georgia led by the head of Georgian Diocese of the Armenian Apostolic Church, Bishop Vazgen Mirzakhanyan and Armenian Ambassador to Georgia Hrachia Silvanyan visited the Patriarchate of Georgian Orthodox Church on January 10, Press Service of the Georgian Diocese reports.
The Georgian Armenian delegation was received by Patriarch of Georgia His Holiness Ilia II. On behalf of the Georgian Church, the Patriarch wished a Happy New Year and Merry Christmas to the Catholicos of All Armenians and the President.
His Holiness Ilia II expressed his respect and friendly attitude towards the Armenian people and voiced hope that all the problems would be solved though joint efforts.
He also said he anticipates the visit of Catholicos of All Armenian His Holiness Karekin II to Georgia this year.