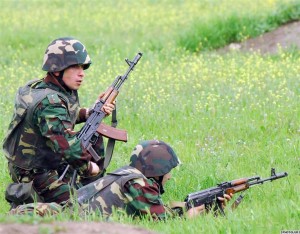 STEPANAKERT — An Armenian soldier has been shot dead in continuing truce violations at Armenian-Azerbaijani "line of contact" around Nagorno-Karabakh, military authorities in Stepanakert said on Friday.
Nagorno-Karabakh's Defense Army said the soldier, Hovik Sukiasian, was killed on Thursday morning in an "intensive shootout" provoked by Azerbaijani forces deployed southeast of the disputed territory.
"According to preliminary data, Azerbaijani troops suffered much bigger casualties as a result of the shootout," the Karabakh army said in a statement. Its spokesman, Senor Hasratian, could not give further details when contacted by RFE/RL's Armenian service.
Armenia's Defense Ministry also accused the Azerbaijani military of provoking the incident. "This incident once again shows that Azerbaijan's authorities either do not control the frontline behavior of their armed forces or themselves organize such provocations," ministry spokesman Davit Karapetian charged.
But a spokesman for Azerbaijan's Defense Ministry, Teymur Abdullayev, dismissed these claims. He was quoted by the Trend news agency as insisting that no Azerbaijani servicemen were hurt in the area adjacent to Iran.