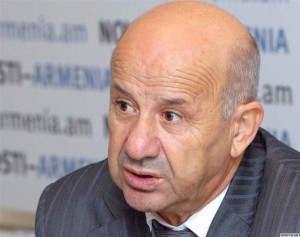 YEREVAN — The head of Armenia's National Service For Seismic Defense, Alvaro Antonian, has been charged with embezzlement and is risking up to eight years in prison, it emerged on Monday.
The Special Investigative Service (SIS) claimed that Antonian pocketed 3.3 million drams ($9,100) from a French government grant that was used for building several seismic monitoring stations in the southeastern Vayots Dzor province.
In a written statement, the SIS said the grant worth 70,000 euros ($92,500) was provided to the Armenian earthquake-monitoring agency in August 2009 through a non-governmental organization headed by Antonian. It said the official has already been formally charged under a Criminal Code clause carrying between four and eight years' imprisonment.
Antonian, who has avoided pre-trial arrest, strongly denied the accusations. "I didn't embezzle or waste anything," he told RFE/RL's Armenian service.
"I had those stations built properly and on time," said Antonian. "Less than half of the sum provided by the French side was actually spent … We dreamed about having such state-of-the-art facilities for 20 years."
Antonian added that the launch of the criminal proceedings was "very unexpected" for him and that he suspects "personal motives" were behind it. He did not elaborate, though, saying only that he did not fall out with any high-ranking government official.
"I'm a member of the [ruling] Republican Party. How could I have problems with the supreme authority?" argued the official.