YEREVAN — Thousands of people demonstrated in Yerevan on Friday to condemn the latest increase in the prices of electricity in Armenia which was authorized by regulatory authorities on Thursday.
A non-partisan pressure group that organized the demonstration in the city's Liberty Square gave the authorities until Monday to reverse the more than 16 percent price rise or face fresh street protests. Leaders of the Voch Talanin (No To Plunder) movement said they will urge supporters to march to President Serzh Sarkisian's headquarters if the unpopular measure is not reversed by that time.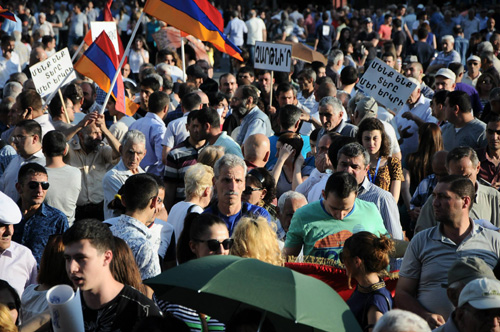 Social-Democratic Hunchakian Party (SDHP) Sargis Tkhruni youth union participated in the June 19 rally. In a statement the group said "The pending rise in electricity prices is another blow to our citizens and will lead to the increase of prices of different products and services. This, first of all, concerns staple goods and products and will be especially felt by the most vulnerable stratum of the society".
In the meantime, the leaders of the pressure group said, they will hold a three-day sit-in in the square. Hundreds of mostly young protesters joined the nonstop protest.
The group issued the ultimatum after angry speeches by its leaders rejecting the official rationale for raising the energy tariffs for a third time in two years. They stood by their claims that Armenia's power distribution network has been making massive financial losses because of corruption and mismanagement, rather than the low cost of electricity supplied to households and corporate consumers.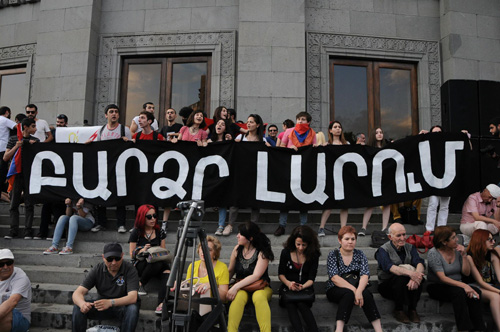 "We will not put up with the plunder of the already impoverished people," warned Maxim Sargsyan, a No To Plunder leader.
"The price must not go up by a single penny. It's already high enough," said another leader, Aram Manukian. He Sarkisian and Prime Minister Hovik Abrahamian are personally responsible for the price hike.
The crowd agreed, chanting "Serzhik, go away!" — a traditional slogan of radical opposition groups.
"It's a very serious and, I hope, justified tactical decision," Hovannisian told RFE/RL's Armenian service (Azatutyun.am) commenting on the announcement of the group's further steps.
The protest organizers did not specify what they will do if the authorities reject their ultimatum. They only called for more people to join the Liberty Square sit-in with blankets and even tents.
The Armenian government and its political allies have repeatedly defended the higher electricity prices that will take effect on August 1. Citing massive debts incurred by the Electricity Networks of Armenia (ENA) operator in recent years, they say that failure to raise the tariffs would disrupt energy supplies in the country.
The ENA, which is owned by Russia's national electric utility, last month requested a nearly 40 percent price rise from Public Services Regulatory Commission.