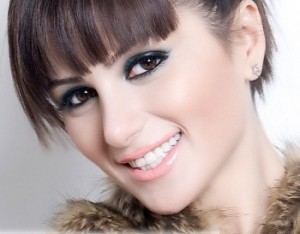 Yerevan, Armenia – Yesterday, the Armenian public broadcaster AMPTV held a press conference to announce the representative for the 2011 Eurovision Song Contest: Emmy, one of the biggest stars of her country, will be flying the Armenian flag in Düsseldorf!
Unlike 2010, when a public national final was held to pick both the singer and song to represent Armenia in the Eurovision Song Contest, the representative for 2011 was internally selected. On a press conference on Saturday, December 11th, Alexan Harutyunyan, the Chairman of the Council of the Armenian Public Television and Radio Company, announced that the Art Council of the broadcaster had chosen Emmy to take part in Europe's Favourite TV Show.
Emmy is one of the most popular singers of the small Caucasian country. She is the daughter of Nadezhda Sargsyan, a famous Armenian singer, and Davit Bejanyan, a sculptor and jazz pianist. Thus, she grew up in a family where music and art has always played a key role, so it seemed quite natural that she would become an artist, too. Emmy got famous already at a very young age, and both as a member of the music group Hayer and, later, as a solo singer, she has toured the whole world and won several prizes.
Last year, Emmy already participated in the Armenian national selection, and she reached the second place with the modern pop song Hey (Let Me Hear You Say), which she performed together with Mihran. Now it's finally time for her to rock the stage of the Eurovision Song Contest! Her song will be selected in a televised national final, for which songwriters and producers were asked to send in their suggested entries.