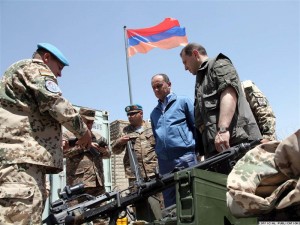 Armenia will send more military personnel to Afghanistan next year to train the war-torn country's armed forces, military officials in Yerevan said on Tuesday.
The move will expand Armenia's participation in the U.S.-led International Security Assistance Force (ISAF) for Afghanistan operating under the NATO aegis. It is currently confined to a 40-strong Armenian army unit deployed near the northern Afghan city of Kunduz.
That Yerevan has decided to enhance its military presence on the ground was announced by the Armenian Foreign Ministry on Monday. A ministry statement said Armenia's outgoing ambassador to NATO, Samvel Mkrtchian, discussed that decision with the alliance's Deputy Secretary General Claudio Bisogniero on Friday.
It said Bisogniero "hailed the Armenian leadership's decision to double the number of troops participating in the operation."
However, speaking to RFE/RL's Armenian service the next day, Armenia's Defense Ministry spokesman Davit Karapetian clarified that the Armenian military plans to send only five army officers to Afghanistan.
Lieutenant-Colonel Arkady Tonoyan, the commander of the first rotation of Armenian troops who returned from Kunduz in August, confirmed this, saying that the officers will be tasked with training an Afghan army battalion.
"This is going to be our first mission to provide technical assistance to the Afghan army," Tonoyan told RFE/RL. The training mission is due to start "in the middle of 2011," he said.
The decision announced by the Armenian government comes on the heels of last month's NATO summit in Lisbon partly devoted to the future of the ISAF. President Serzh Sarkisian boycotted it in protest against the alliance's support for Azerbaijan's territorial integrity in the Nagorno-Karabakh conflict. Armenia was instead represented at the summit by Foreign Minister Edward Nalbandian and Defense Minister Seyran Ohanian.
Ohanian visited Afghanistan and met with Afghan counterpart as well as NATO's top military commanders on the ground in July. He also visited the Armenian troops stationed there and inspected their observation posts, barracks and equipment.