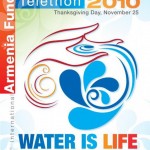 LOS ANGELES, CA — Armenia Fund has announced that it began accepting donations through cell phone text messages on the entire territory of the United States on all mobile carriers. The procedure is simple and fun: text message the word ARMENIA to 50555, confirm with a YES and $10 will be charged to your cell phone bill benefiting Armenia Fund's Telethon 2010, Water is Life!
"We took the 2009 text message pilot project of Hayastan All-Armenian Fund in Armenia and adapted it to the U.S. cell phone environment. Donating through text message is very easy and takes seconds. We text our friends and family more than a dozen times each day, an average person in the United States sends 534 text messages per month. I think each of us can afford text messaging ARMENIA to 50555 at least once to help provide clean drinking water to the people of Armenia. Don't wait for the Telethon, text today", said Sarkis Kotanjian, Executive Director of Armenia Fund, U.S. Western Region.
Raising funds for drinking water and irrigation projects in Artsakh, Armenia Fund's International Thanksgiving Day Telethon 2010 will air live from Hollywood on November 25, 8:00AM-8:00PM PST coast-to-coast and around the world. Airing for 12 hours, Telethon 2010 will reach every continent, entering Armenian homes through satellite, cable and the internet.
In the United States alone the potential audience for the Telethon is around 55 million households in the states of Arizona, California, Massachusetts, Michigan, Missouri, Nevada, New Jersey, New York, Pennsylvania, and Washington.
In Southern California, the Telethon can be seen on KSCI Channel 18, KVMD, ARTN/Shant and USArmenia networks for full 12 hours. In the Glendale/Burbank/Pasadena/La Canada areas the Telethon broadcast will be shown also on AABC, HighVision and Horizon Armenian TV channels. The live 12 hour webcast can be viewed at www.ArmeniaFund.org
The General Sponsor of Telethon 2010 is VivaCell MTS and the Los Angeles Major Partner is Karoun Dairies USA.