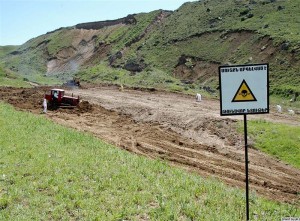 YEREVAN — The Armenian government has failed to properly restore and isolate a toxic waste burial site near Yerevan that was left dangerously exposed earlier this year, environment protection groups claimed on Wednesday.
The Soviet-era industrial grave located near the city's southern Nubarashen suburb contains more than 500 metric tons of DDT and other poisonous substances that had been used by Armenian chemical enterprises.
An Armenian investigative journalist and several environmentalists discovered in April that unknown individuals had broken into the site, tearing down its fencing and flattening a mound of land covering the waste with bulldozers or other heavy machinery. The precise circumstances of the intrusion were never clarified.
Ecologists warned of an environmental disaster at the time, saying the toxic waste is being washed away by rainwater and is threatening to pollute the whole area. Responding to that warning, the government approved in early May 31.6 million drams ($87,000) in emergency funding for restoration work conducted at the site in the following months.
The chemical dump was covered with thick layers of soil and surrounded by new concrete walls. In addition, it was placed under an around-the-clock police surveillance. Inga Zarafian of the Ecolur advocacy group and environmental news agency called the quality of that work "inadequate," saying that poisonous emissions can still be felt in the area. "The odor [of chemical waste] is still very heavy," she told RFE/RL's Armenian service. "Even the police, who are now supposed to protect the territory against various intruders, have moved their observation post away from the site because of the odor."
"That means that the more 30 million drams allocated from the state budget have not been utilized properly," claimed Zarafian.
Her claims were echoed by Lilik Simonian, one of several members of another environmental group who visited the site recently. She said they found deepening cracks in the fencing.
"I think all the work was done properly," insisted Romik Chobanian, a senior official at the Armenian Ministry of Environment Protection. "The republic's prime minister also expressed a positive view about that work when he visited the site after it was completed."
"The cracks emerged because it's an active landslide zone. There is no way we could have prevent the cracks," Chobanian told RFE/RL. The landslides are also responsible, along with rainfall, for the unpleasant odor, he said.
Zarafian further deplored what she called a lack of transparency in the supposedly competitive selection of the company that carried out the repairs. She claimed that the company is owned by Environment Minister Aram Harutiunian.