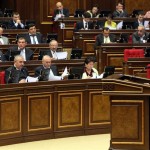 Parliament Speaker Hovik Abrahamian has confirmed that a bill obliging Armenia to recognize Nagorno-Karabakh's independence will be put to a vote in parliament this week unless its opposition proponents agree to postpone it before that.
At a press briefing on Tuesday Abrahamian reiterated the position of Armenia's political majority that such a move was premature while the search for peace in Karabakh continued through negotiations.
Armenia has not formally recognized Nagorno-Karabakh as an independent state as its leadership has cited, as the main reason, the ongoing internationally mediated talks with Azerbaijan and said that such a move is potentially harmful to the negotiations.
Earlier this month the country's legislature was due to vote on a Karabakh recognition bill drafted by the opposition Zharangutyun (Heritage) party. But the party's leader, Raffi Hovannisian, postponed the vote until the end of October after consultations with speaker Abrahamian and other leaders of the parliament's pro-government majority.
"If a political decision is made necessitating Nagorno-Karabakh's recognition by the Armenian Parliament, the issue will be put on the agenda ahead of schedule," Abrahamian said.
Under the current procedure, the Zharangutyun-drafted bill might be put to a vote as soon as October 27 or 28 unless the party decided to postpone the vote again.