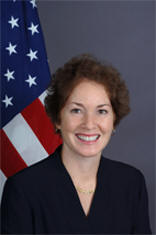 Yerevan – On October 3-14, U.S. Ambassador to Armenia Marie L. Yovanovitch will travel to the U.S. to meet with representatives of the Armenian-American Diaspora community in Philadelphia, Detroit, San Francisco, and Los Angeles.
The ambassador looks forward to exchanging views on current developments in Armenia, U.S-Armenian relations, and U.S. assistance to Armenia, the U.S. Embassy in Armenia reported on September 22.
Tours of Diaspora communities have become an annual tradition for U.S. ambassadors in Armenia. In summer 2009 Yovanovitch visited with Armenian Americans in Boston, New York, Washington and Southern California.
In all of the cities, the Ambassador will hold public Town Hall Meetings with all interested members of the Armenian community. In addition, she will meet with members of youth groups, representatives of community organizations, as well as clergy.
A preliminary schedule of public events is listed below. Additional information about the Ambassador's trip, as well as updates to the schedule, will be posted on the U.S. Embassy Facebook page at www.facebook.com/usdos.armenia Updates will be also available through Twitter at www.twitter.com/usembarmenia. Finally, the public can email questions about the tour to [email protected].