PARIS — Armenian Prime Minister Nikol Pashinyan and French President Emmanuel Macron held a meeting at the Elysee Palace in Paris on Wednesday.
The President of France first expressed his condolences to the Prime Minister on the death of Christian Ter-Stepanyan, Permanent Representative of the Republic of Armenia to UNESCO, Personal Representative of the Prime Minister of Armenia to the International Organization of La Francophonie. Emmanuel Macron once again emphasized France's support to Armenia in its further development and in overcoming of existing challenges.
Nikol Pashinyan thanked for the warm hospitality and condolences. The Prime Minister emphasized the development of Armenian-French cooperation in all fields, stressing the interest of the Armenian government in this matter.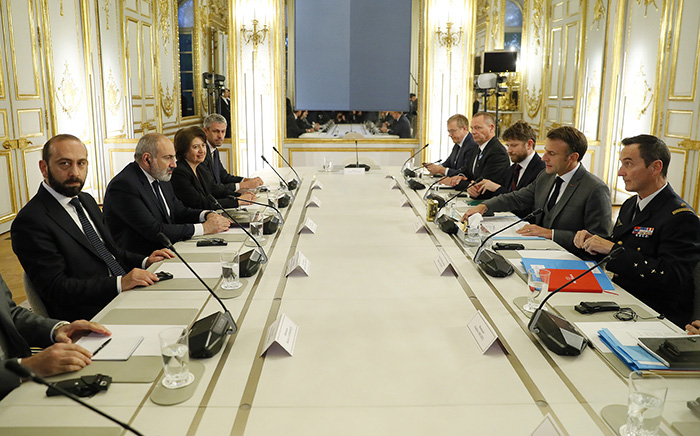 The interlocutors discussed issues related to the process of normalization of Armenia-Azerbaijan relations. The importance of the principles set down in the four-sided Granada declaration of the Prime Minister of Armenia, the President of France, the Chancellor of Germany and the President of the European Council was emphasized in the matter of the normalization of relations between Armenia and Azerbaijan.
Reference was made to the humanitarian problems of more than 100,000 persons forcibly displaced from Nagorno-Karabakh as a result of Azerbaijan's ethnic cleansing policy, as well as to the steps taken by the Armenian government to overcome them. The support of the international community in solving the existing problems was highlighted.
Issues related to further deepening and expansion of Armenian-French cooperation in economy, infrastructure development and other fields were also discussed. The parties expressed their willingness to consistently continue the work in that direction.
Nikol Pashinyan and Emmanuel Macron exchanged thoughts on the issues of regional peace and stability, as well as Armenia-European Union cooperation.