PASADENA – On Wednesday evening, the Consul General of the Republic of Armenia in Los Angeles, Dr. Karen Israyelyan, and consulate advisor Karen Hovannisyan, met with the leadership of the Social Democrat Hunchakian Party. During a series of meetings to mark his assumption of office, Dr. Israyelyan visited the SDHP headquarters in Pasadena where he was warmly received by the members of the Party's Central Committee and the Western USA Executive Committee.
At the outset of the meeting, Executive Committee Chairman Vasken Khodanian extended a warm welcome and congratulated Dr. Israyelyan on his appointment to one of the most significant diasporan communities around the world. Chairman Khodanian pledged the Party's unwavering support and cooperation with the Consulate to benefit the Motherland and strengthen Armenia-Diaspora ties.
Alongside his significant academic background in Oriental Studies, Dr. Israyelyan is a seasoned diplomat who served the Foreign Ministry in critical roles such as the Deputy Chief of Mission to the European Union and the Head of the NATO division. Dr. Israyelyan expressed his gratitude and deeply valued the constructive stance of the SDHP toward Armenia.
Dr. Hambik Sarafian, Chairman of the Central Committee of the SDHP, outlined the party's principled positions on Armenia's domestic and foreign policies. Dr. Sarafian stressed the significance of working in unison, especially at a time of existential threat to Armenia's sovereignty and the ongoing Azerbaijani campaign of ethnic cleansing in the Republic of Artsakh.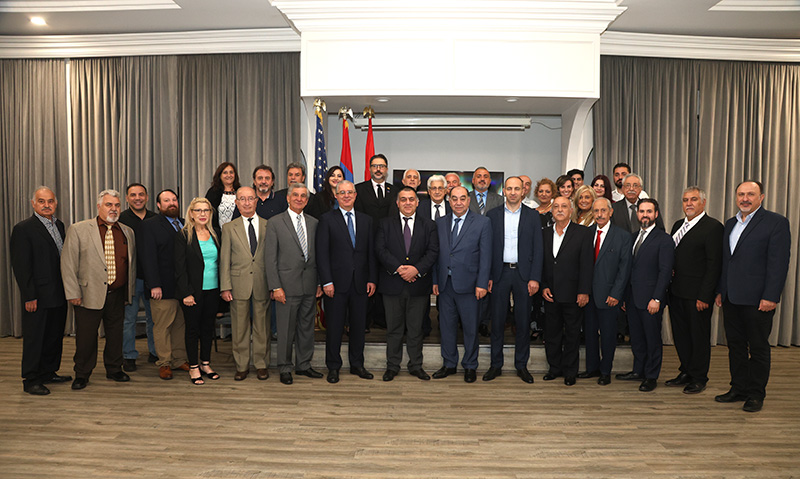 The meeting concluded with a reception at the AEBU Center's banquet hall where the leadership of SDHP's sister organizations had an opportunity to pose their own questions and concerns to the Consul General. The organizations present included the Armenian Council of America, Gaidz Youth Organization, Nor Serount Cultural Association, Armenian Educational Benevolent Union, Armenian Athletic Association, Women's Union, and the Compatriotic Committee. Dr. Israyelyan acknowledged and commended the significant presence of a large swath of LA's Armenian-American leadership. The evening concluded with well wishes for Dr. Israyelyan's tenure, the SDHP's cooperation with the Consulate and its commitment to a bright future for Armenia and Artsakh.