KAPAN — The EU Mission in Armenia (EUMA) has opened an additional operational hub in Kapan, the administrative center of the southern Armenian province of Syunik bordering Azerbaijan.
EUMA Head of Mission Markus Ritter said that the mission, according to the plan, intends to open 6 more operational hubs in Armenia- in Ijevan and Yeghegnadzor. Ritter said the center in Kapan is important from a strategic point of view.It will allow them to "expand its mission in Syunik province, carry out more regular observations and reports on the security situation of the province."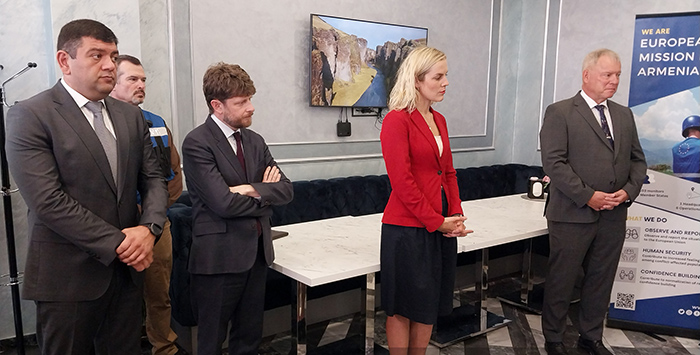 "This hub will allow us to periodically report on the situation in Syunik and Kapan. I hope that our presence here will contribute to the peace process," he said.
Syunik provincial governor Robert Ghukasyan said the presence of the EU observation mission in Kapan could help ensure stability on the border.
"I hope that the mission will carry out its activities as the population expects and the results will not be long in coming," he said.
The EU Mission in Armenia was deployed on February 20, 2023 on the Armenian side of the Armenian-Azerbaijani border.
It is tasked with observing and reporting on the situation on the ground; contributing to human security in conflict-affected areas and based on the above, contributing to build confidence between populations of both Armenia and Azerbaijan and, where possible, their authorities.
The Mission has a two-year mandate and involves up to 100 staff, including EU experts and monitors.