The United States and the European Union renewed their calls for the immediate lifting of Azerbaijan's blockade of Nagorno-Karabakh on Wednesday one day after Baku again banned medical evacuations from the Armenian-populated region.
Azerbaijan's state border guard service said that it imposed the ban because individuals escorted by the International Committee of the Red Cross (ICRC) back to Karabakh from Armenia tried last week to "smuggle" cigarettes, mobile phone screens, gasoline and other items. The ICRC had transported hundreds of Karabakh patients to Armenian hospitals since Baku blocked last December commercial traffic through the Lachin corridor.
"The United States is deeply concerned about Azerbaijan's continued closure of the Lachin corridor," the U.S. Embassy in Yerevan said in a statement to RFE/RL's Armenian Service.
"Yesterday's halting of humanitarian traffic exacerbates a worsening humanitarian situation and undermines efforts to establish confidence in the peace process. Free and open transit through the Lachin corridor must be restored immediately," added the statement.
The EU's foreign policy spokeswoman, Nabila Massrali, similarly urged Azerbaijan to "ensure that ICRC can continue its operations and prevent a potential humanitarian crisis" in Karabakh.
"The EU strongly supports the crucial role of the ICRC in the region, and reiterates its call for Azerbaijan to ensure the unrestricted movement of people and goods via the Lachin corridor," said Massrali.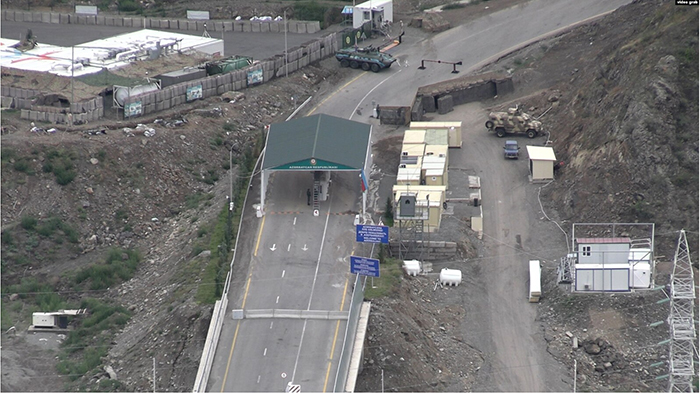 The U.S., the EU as well as Russia have repeatedly made such statements during the Azerbaijani blockade. Baku has dismissed them and denied blocking supplies of food, medicine and other essential items that are now running out in Karabakh.
The Azerbaijani side further tightened the blockade on June 15, banning Russian peacekeepers from shipping limited amounts of such items to Karabakh. It has also been blocking Armenia's electricity and gas supplies to the region.