SAN FARNCISCO —  On Saturday, April 1st, 2023, a time capsule was unearthed from the foot of Mt. Davidson Cross in San Francisco in front of a large crowd of onlookers.  Ninety years ago to the day, San Francisco officials and community members gathered at the top of Mt. Davidson Cross to witness Boy Scouts of America Troop 88 bury a sealed copper box at the foot of the Cross to commemorate the first Easter Sunrise Service held there on April 1st, 1923.
"Historic moments like these held at Mt. Davidson Cross illustrates how our Armenian-American communities can enrich and inspire society by bringing people together under the ancient canopy of our resilience and hope," commented Fr. Mesrop Ash, Pastor of St. John's Armenian Apostolic Church in San Francisco and Board Member of the Mt. Davidson Cross Armenian Council.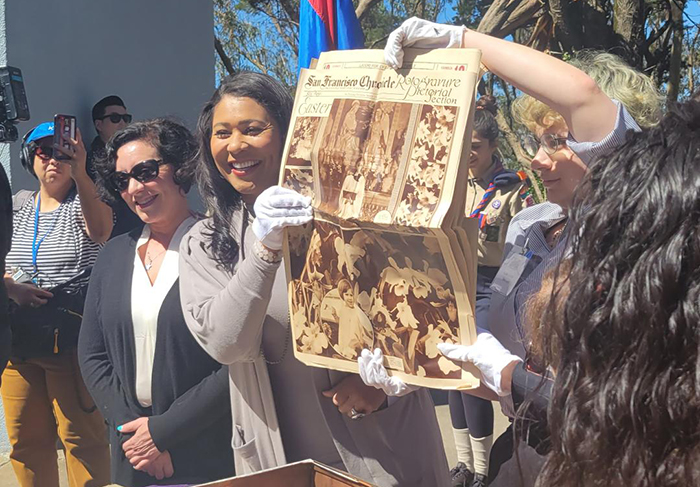 During the time capsule unearthing, representatives from the San Francisco Historical Society were present to delicately receive the items which will be prepared for archiving and placed on display for the public to view at their San Francisco museum in June.
Among the items found in the capsule– which were much more plentiful than the organizers were expecting– were a leather-bound Bible, a San Francisco telephone book, pamphlets, a Boy Scout pin, a municipal record of 1933 and several newspapers including the March 27, 2932, edition of the San Francisco Chronicle, featuring a full front-page photo collage of an Easter celebration, and several other newspapers from the time, many with headlines referencing a murder case.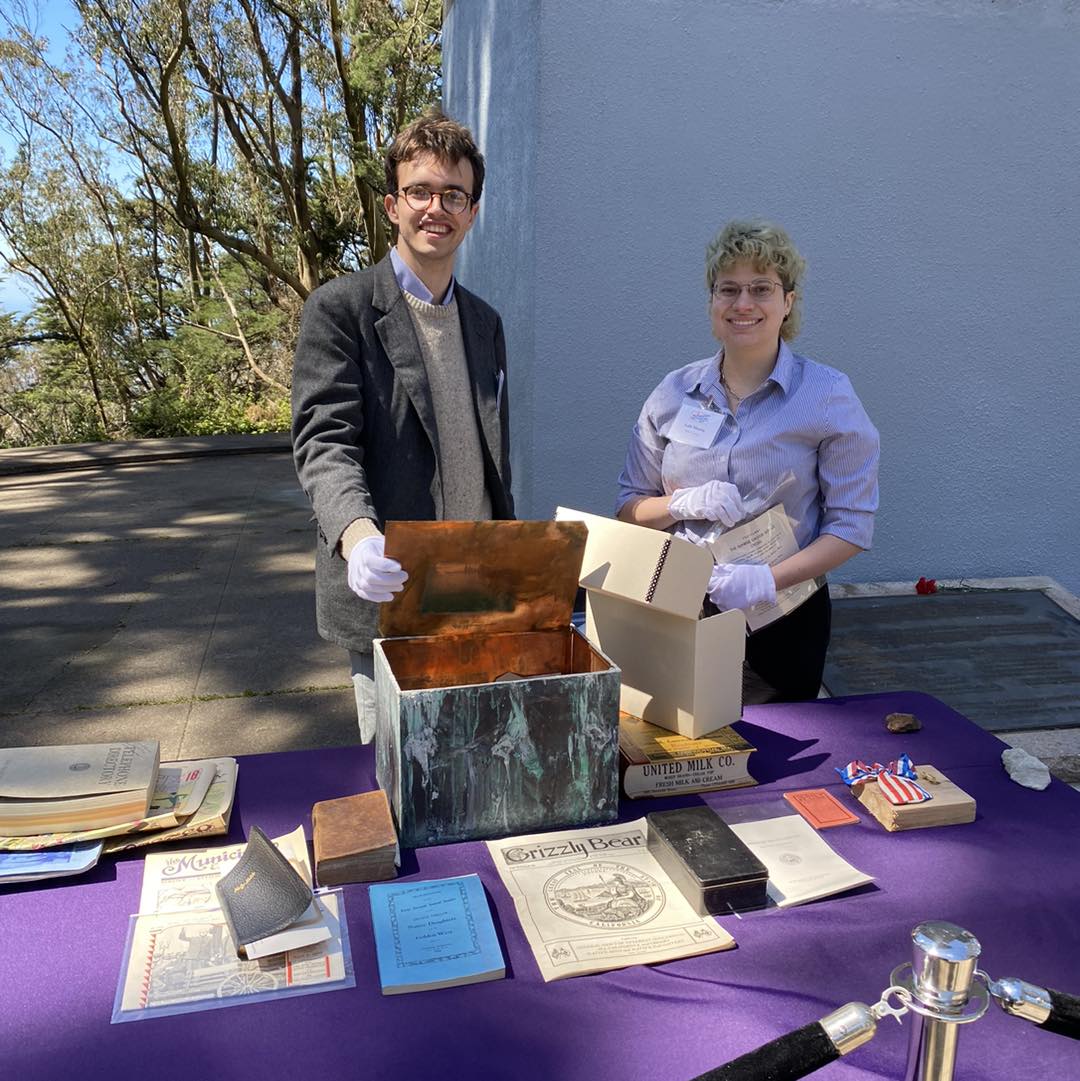 Following the unearthing of the old time capsule, a new, larger copper time capsule was buried at the same spot. Memorable items were presented by various local clergy leaders including Archbishop Salvadore Cordileone, Archbishop of the Catholic Archdiocese of San Francisco and Metropolitan Gerasimos, Metropolitan of the Greek Orthodox Metropolis of San Francisco.
In front of the crowd, Archbishop Cordileone read a poignant quote from Pope Francis in 2015 during his visit to Tsitsernakaberd, the Armenian Genocide Memorial in Armenia and placed a copy of that inside the new capsule.
On behalf of the Armenian American community, Archbishop Hovnan Derderian, Primate of the Western Diocese, placed a New Testament Bible from Constantinople (Istanbul) from 1884 belonging to a Genocide survivor and an Armenian Cross Stone (Khachkar) made especially for this event into the new time capsule.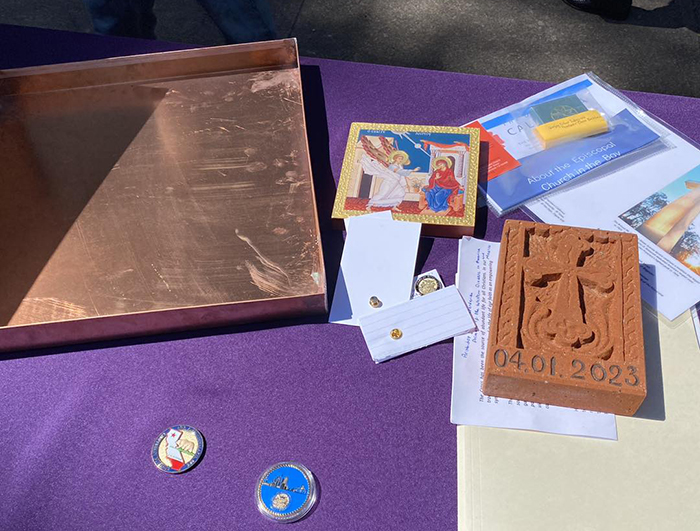 Aside from the clergy, it was an honor to have many state and city politicians in attendance for this historic event. CA Lieutenant Governor Eleni Kounalakis, San Francisco Mayor London Breed, as well as San Francisco Supervisors Myrna Melgar and Ahsha Safai all provided brief remarks and ceremonially added their own small San Francisco-related memento into the new time capsule.
The historic event was organized by the the Council of Armenian-American Organizations of Northern California (CAAONC), a coalition of more than 30 Armenian-American organizations that purchased the Mt. Davidson Cross through a City of San Francisco public auction in 1997. The CAAONC has renovated the Cross and maintains it and the hilltop as an offer of thanks to San Francisco for becoming a safe haven for survivors of the Armenian Genocide.
"The San Francisco Armenian American community was gratified to save the Cross from demotion in 1997 and serve as its caretaker for the past 25 years in memory of the victims of the Armenian Genocide committed by the Turkish government, remarked Roxanne Makasdjian, Founding Board Member of CAAONC and event Mistress of Ceremonies.
"We do this as a way of thanking San Francisco for taking in the Armenian refugees a century ago, and as a way to honor our history, both as the first nation to adopt Christianity in 301 AD, and as descendants of Armenian Genocide survivors. For us, this Cross and this time capsule embody the importance and purpose of remembrance," commented Makasdjian.