YEREVAN — The General Prosecutor's Office of Armenia has filed a lawsuit with the Anti-Corruption Court demanding that a string of assets be seized from Hovik Abrahamyan, his wife, son, daughter and others related persons.
Abrahamyan served in the previous administrations as Minister of Territorial Administration, Speaker of the National Assembly and Prime Minister.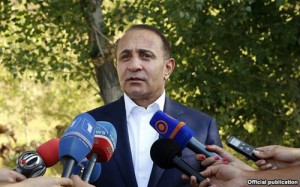 Under a law enacted by the Armenian government in 2020 prosecutors can seek asset forfeiture in case of having "sufficient grounds to suspect" that the market value of an individual's properties exceeds their "legal income" by at least 50 million drams ($100,000).
The assets to be seized from Abrahamyan and his family members include fifty-nine properties, 15 of them in downtown Yerevan, 4 vehicles, shares in 20 companies, the market value of 9 real estate properties, which he had sold at a significantly lower price of 1.6 billion.
The list also includes right of claim arising from loans provided to companies in the amount of $11.3 million, 687.5 million drams, 3.2 million euros and also 21.2 billion 2 drams of illegal income. ($1 – 388.63 drams).