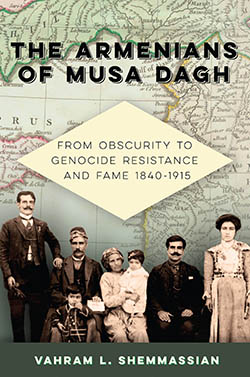 FRESNO — Armenian Studies Program Director Prof. Barlow Der Mugrdechian announced the publication of Dr. Vahram Shemmassian's The Armenians of Musa Dagh: From Obscurity to Genocide Resistance and Fame 1840-1915, Volume 11 in the Armenian Series of The Press at California State University, Fresno.
The Armenians of Musa Dagh is a comprehensive history of the people of Musa Dagh, who rose to prominence with their resistance to the Genocide in 1915. Dr. Shemmassian, has presented a thorough analysis of the social, economic, religious, educational, and political history of the six villages which constituted Armenian Musa Dagh. His work focuses on the important period of the mid-nineteenth to the early twentieth century, offering the reader a previously unavailable insight into the people whose courage and persistence ultimately led to their successful self-defense.
"The Armenians of Musa Dagh is an important addition to the Armenian Series," said Prof. Der Mugrdechian, general editor of the Armenian Series. "Dr. Shemmassian's meticulous study is significant in that it brings to light much of the history of Musa Dagh in the late 19th to early 20th century."
Dr. Shemmassian, whose roots go back to Musa Dagh, for the first time in any language, provides a clear view of the complex multi-faceted history of the region in seven chapters and an epilogue. The last chapter, in particular, is an 80-page treatment of the Genocide resistance, including its widespread coverage in the contemporary international press.
The book demonstrates that this was a period of great change, during which the Musa Dagh Armenians transitioned from an isolated and largely unknown people to a collectivity that prepared to defend its national identity and rights against an increasingly discriminatory and oppressive Ottoman Empire. Shemmassian's work reveals much information which has been uncovered for the first time, based on primary sources.
The volume includes 5 maps, 14 tables, and 162 rare photos, providing a glimpse into the life of the people of Musa Dagh.
Vahram L. Shemmassian is Professor and Director of the Armenian Studies Program at California State University, Northridge. He holds a Ph.D. in History from the University of California, Los Angeles (UCLA). His book, The Musa Dagh Armenians: A Socioeconomic and Cultural History, 1919-1939, was published in 2015 by the Haigazian University Press in Beirut. He has given many lectures and organized and participated in international academic conferences. He has also published scholarly articles in peer-reviewed journals, as well as book chapters on the fate of Armenian Genocide survivors in the Middle East between the two World Wars. He has received a number of awards for his academic endeavors, dissemination of Armenian culture, and community involvement.
Copies of The Armenians of Musa Dagh are available for purchase from: Abril Bookstore, http:///abrilbooks.com or the National Association for Armenian Studies & Research (NAASR) Bookstore, https://naasr.org/collections/naasr-bookstore.
For bulk orders please contact the Armenian Studies Program, at 559.278.2669 or by email at [email protected].