DAVOS — On the sidelines of the World Economic Forum in Davos, Prime Minister Nikol Pashinyan today attended a panel discussion, referred to as "Shaping the Future of Democracy."
Colombian President Iván Duque Márquez, Nepal's Prime Minister K.P. Sharma Oli, New York Times publisher Arthur Gregg Sulzberger and Director of Management Today project Daniella Ballou-Aares were among the keynote speakers. Martin Wolf, Deputy Editor and Chief Economist for The Financial Times magazine, acted as the moderator.
Answering Martin Wolf's question, Nikol Pashinyan noted that parliamentary elections were held in Armenia a month ago, which were assessed as free, democratic and transparent.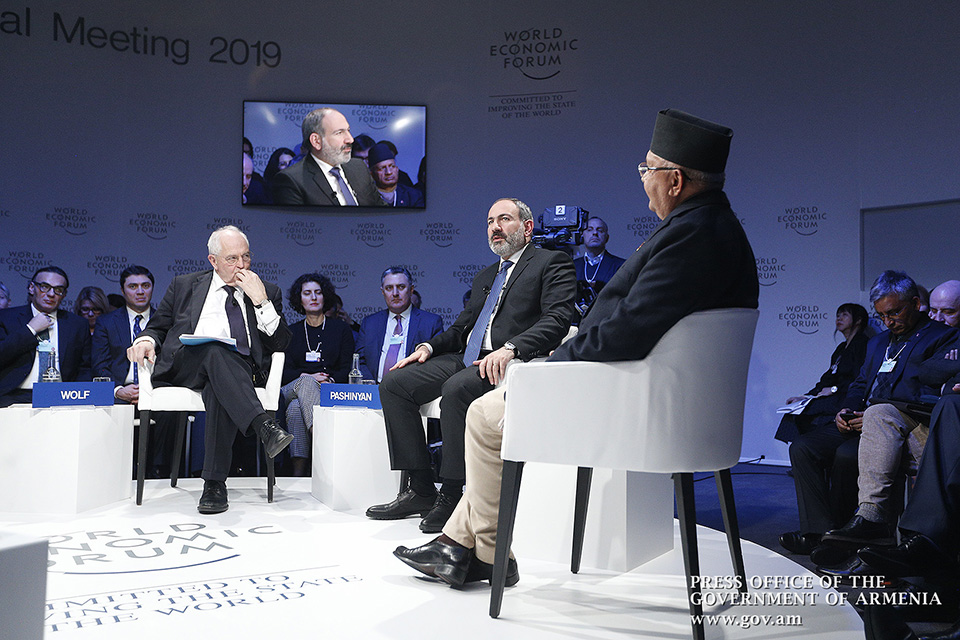 "And now as we have recorded great success in the field of democracy, we are facing serious challenges, and the biggest challenge is to empower our democracy economically. You may know that we had a big problem for a long time because of electoral bribes that people were forced to take due to their poor living standards. Of course, the revolution liberated people from that obligation. But now we have to make our citizens even stronger and more independent in economic terms.
We know that there is small and medium-sized business, but we are going to create a new category like micro business and get it rid of taxes in the hope that we will be able to encourage our people by making it clear that overcoming poverty is not only the task of the government: they themselves will have to do something, too. We want to encourage our people by providing opportunities to curb their own poverty.
Thus my answer is as follows: the greatest challenge is to strengthen our democracy economically, and we hope to attract new foreign investments because we have been able to fight corruption, reinstate the rule of law, and we are going to simplify the regulations in order to attract more investments," Nikol Pashinyan said.
With reference to media freedom in Armenia, Nikol Pashinyan noted: "You know, I am a journalist, chief editor and former political prisoner. I can assert that media now enjoys more freedom than ever in Armenia. Not all journalists may agree with me because many believe that media is not completely free in Armenia, but I can insist on it. I think it is just normal that media and the government are somewhat at odds as we can witness that there is now little trust in governments around the world due to the fact that people nowadays know much more about high-ranking officials than before."
Nikol Pashinyan expressed conviction that full transparency in government workings is the key to increasing the level of trust towards the government. Nikol Pashinyan next spoke about the role of social media in the modern world. "As a matter of fact, we succeeded our revolution owing social media because we were caught in media blockade, but we managed to bring about a breakthrough in this field. Now, I continue to hold live broadcasts on my Facebook page.
As regards the interconnectivity between media and free, unbiased elections, it is necessary to check the factors that affected the election results, as the release of a couple of biased materials can affect election results, which, of course, is a big problem.
What can be done in this case; it seems to be a serious challenge. I am proud to state that our country has been recognized as a free Internet country, which in turn opens up news exchange opportunities or transparency.
Indeed, it leaves a huge loophole for fake news, which adversely affects our country's image around the world. Frankly speaking, I do not know what to do in such situations. And I would be happy if anyone could tell us which way to go."