BY FLORENCE AVAKIAN
Nerses Krikorian was four years old when he first stepped on U.S. soil. Born on the side of a Turkish road in 1921 as his parents were fleeing the Armenian Genocide, his family spent the next four years moving from country to country with only the bare clothes on their backs. On the way, his brother was born in Aleppo, Syria.
Canada became their final refuge. The family finally found its American home in Niagara Falls, NY when Krik was four, his father becoming a factory worker, and his mother a homemaker giving birth to his youngest brother.
He remembered many years later, that all that moving from place to place was a "tortured way of living, because you don't belong anywhere."
A Famed Scientist and Analyst
With such bleak beginnings, Nerses "Krik" Krikorian's future seemed anything but promising. From age 4 to 96 when he died in Los Alamos, New Mexico, his story is anything if not amazing. He was one of the most famed scientists and intelligence analysts in America, having been a major player on the Los Alamos Manhattan Project which eventually created the first nuclear weapon.
His first job was at Union Carbide in 1943, following a bachelor's degree from college in chemistry. The lab made highly enriched uranium. He was unaware that he was ensconced in the Manhattan Project which dropped the first atom bomb on Hiroshima.
He said at the time, "Well, the war is going to end. And I hope we never have to use it again for any purpose."
After the war, Union Carbide cut down its uranium work, and he went to New Mexico to continued working on the Manhattan project.
Many years later, when his father visited him, He mentioned to Krik that the rugged mountains and dry climate of New Mexico reminded him of the old country. Krik felt that "deep down, maybe I had some connection to it that I didn't even remember".
It was also at Los Alamos that he met his wife, Katherine Patterson who had also come in 1943 to work on the Manhattan Project as a member of the Women's Army Corps. There, they raised their only child, a daughter Debra, now a retired Army lieutenant colonel.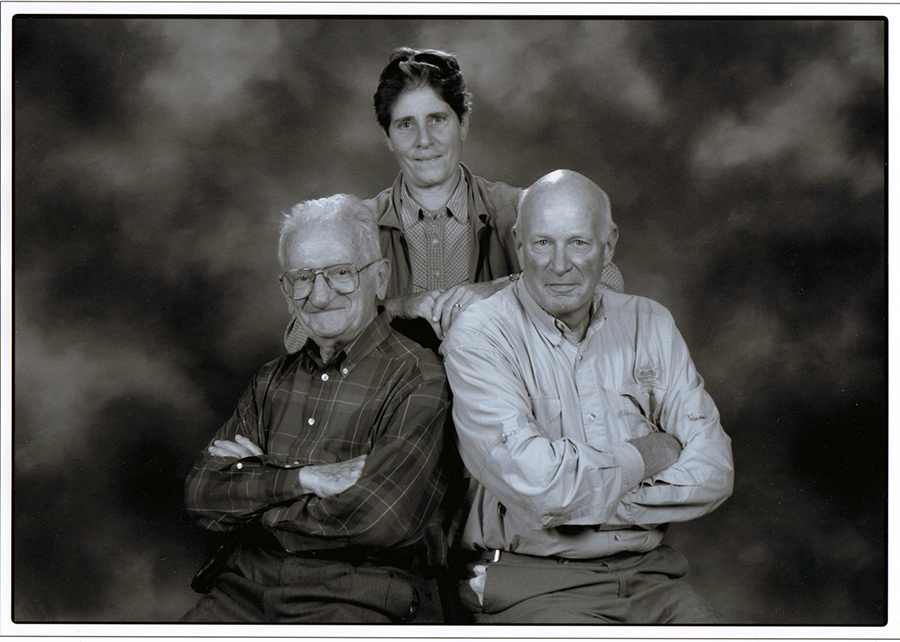 The Armenian Connection
And so began an illustrious career for Krik that spanned four and a half decades. It was in 1972, when he was asked to join an intelligence unit, though he didn't know why. He suspected that the reason also included the fact that he spoke fluent Armenian, and some Russian.
As a child, his parents had forced him to speak and write Armenian, as well as to learn the history, culture and literature of Armenia.
"As a kid, I thought it was useless," he remembered. Why do I need to learn a language that hardly anyone speaks. I guess God knew what was coming."
He found out why in the 1960's that he had to translate Russian chemistry books into English. This information became very useful to the U.S. government at the time.
"I'm an American," he said. Feeling a deep commitment to America's national security, he felt that the intelligence analysts were all motivated to keep the peace. "I feel obligated to this country. Look at what I have been able to accomplish here."
Krik was always amazed that as a boy he had arrived in this country with papers that labeled him as "stateless", and could rise to a position of security head for a U.S. intelligence unit.
As the holder of six patents, Krik retired in 1991 after receiving countless honors, including the Los Alamos Medallion (its highest award), two honorary doctorates, the CIA's Intelligence Community Medal, and in 2005, election as an honorary Doctor to Armenia's National Academy of Sciences.
Nostalgic Remembrances
Recently, Krik's daughter Debra, in a telephone conversation, reminisced about her father's strong link to his heritage. "My father felt strongly about his Armenian background. He was fluent in both modern and liturgical Armenian, and could read and write."
Debra revealed that her grandparents suffered during the Genocide, with her grandmother's immediate family all killed. Her grandfather's brothers split, with the eldest moving to Canada, and the other brother going to Yerevan. Her grandfather with his wife and son Krik came to Canada via Syria, Greece, and France.
"My grandparents apparently masqueraded as Kurds during a portion of this odyssey as both were fluent in Kurdish. They never spoke to me about the Genocide," Debra remembers.
She relates that when her father moved to New Mexico, there were very few Armenians, but in the 1950's and 1960's, a group of about 60 came together. "When I was a child we would get together with these families frequently even though it was 100 miles each way to see each other. During the 1980's there were enough to establish a cultural organization as well as an Armenian church which my parents supported."
She recalls that her father often read Armenian poetry, history and philosophy, and translated many writings "which he left to me. During the last days before his passing, he reverted to speaking Armenian and spoke to several of his Armenian friends. In short, he went back to his Armenian roots."
Krikorian had opportunities to go to Armenia in the 1990's, first at the request of the U.S. State Department to assist and engage with the scientists there. Later he visited and assisted through the audits of scientific projects funded through the International Science and Technology Center.
During these visits, he also happily met his relatives there. It was his wife "who had the heart and soul of an Armenian" who first went to Armenia in 1979, and found his relatives who still keep in contact with daughter Debra to this day.
Benevolent Goal
A scientist "in soul and heart", Dr. Krikorian had been regularly contributing to one of the most effective Diasporan projects supporting cutting edge R&D in Armenia – the Armenian National Science and Education Fund (ANSEF), run by the Fund for Armenian Relief (FAR) in New York City.
Following his personal wishes, a special Endowment Fund was established at FAR by his daughter Debra after the eminent scientist passed away. Its goal is to perpetually support young researchers educated in universities in Armenia.
In a 2017 interview, Krikorian reflected, "things have worked out far beyond what I ever imagined. I think of my parents, and wonder, 'How did they ever do it'. My parents instilled in me the importance of doing the right thing and giving back to your fellow man. I hope I have done that."