NEW YORK — Iranian President Hassan Rouhani called for greater trade and investments between Iran and Armenia when he met with Prime Minister Nikol Pashinian in New York late on Tuesday.
The two men reportedly focused on economic issues in what were their first face-to-face talks held on the sidelines of the UN General Assembly.
Rouhani was reported to say that Armenian-Iranian commercial ties lag far behind political relations between the two neighboring states. According to the Mehr news agency, he said Iran is ready to expand mutual energy supplies and help to launch a transport corridor connecting Black Sea and Persian Gulf ports via Armenia and Georgia.
"We are ready to encourage the private sector to engage in business in Armenia and facilitate Armenian companies' investments [in Iran,]" added Rouhani.
Pashinian likewise stressed the importance of enhancing the economic component of Armenia's "special" relationship with Iran. He called for a faster implementation of joint energy projects agreed by the two governments.
One of those projects involves the ongoing construction of a third high-voltage transmission line that will connect Armenian and Iranian power grids. An Iranian construction company is due to finish it next year. The new line is meant to sharply expand a swap arrangement involving supplies of Armenian electricity and Iranian natural gas.
According to official Armenian statistics, Armenian-Iranian trade stood at a modest $263 million last year. Tehran and Yerevan hope that Iran's provisional free-trade agreement with the Russian-led Eurasian Economic Union (EEU) signed in May will also boost it.
In its policy program approved by the Armenian parliament in June, Pashinian's government says Armenian-Iranian ties must be "immune to other geopolitical influences as much as possible." The program says Armenia will at the same time seek to bolster its "friendly partnership" with the U.S.
Pashinian Meets with Lebanon President Michel Aoun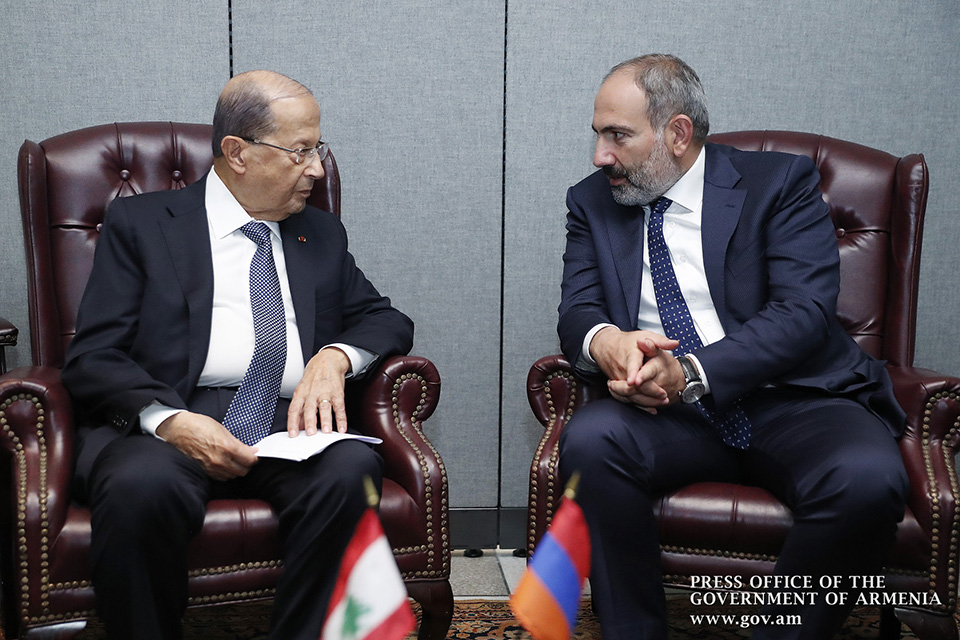 Prime Minister Nikol Pashinian alsp met with Lebanese President Michel Aoun at the UN headquarters in New York.
Pleased with the current status of political cooperation, the parties attached importance to the continuous development of Armenian-Lebanese friendly relations. They stressed the importance of business forums in terms of strengthening economic ties and increasing trade turnover between the two countries.
As they discussed ways of promoting cooperation in different spheres, Nikol Pashinian and Michel Aoun touched upon the ongoing preparations for the upcoming OIF Summit in Yerevan. The Lebanese President reaffirmed his willingness to participate in the Summit and expressed conviction that it will be held at a high level.
The interlocutors attached importance to the role of the Lebanese Armenian community in terms of expanding bilateral ties. Michel Aoun emphasized that the Armenian community is playing an important role in his country and contributes to the development and progress of Lebanon.