FRESNO (The Collegian) — Fresno State hosted guest speaker Dr. Clint Curle, senior advisor to the president at the Canadian Museum for Human Rights, for the opening reception of the Genocides of the 20th Century exhibit on Sept. 6.
The evening began with an introduction from Deborah Sinclair, the Memorial De La Shoah museum's head of touring exhibitions in North America.
Sinclair briefly discussed the origins of the term genocide, and the purpose and importance of learning about and comparing historic atrocities.
"Comparing genocides makes it possible to understand their common elements and differences, leading to a better understanding of the mechanisms of the crimes," Sinclair said. "That is already the first step to prevention."
Sinclair then introduced Curle, who also began by stating the importance of the discussion.
"I wish we didn't have to have this talk," Curle said. "If we don't talk about it we basically doom ourselves to the pattern of repetition."
Curle then gave an overview of the Armenian Genocide, and how the atrocities committed therein were unprecedented in the modern era.
He then explained that at the time of the Armenian Genocide, the term genocide had not yet been created, and how a Polish-Jewish lawyer by the name of Raphael Lemkin later coined the term to describe the massacres during the Jewish Holocaust.
Curle analogized the act of genocide to a disease. He compared Dr. Jonas Salk's vaccine for polio to the teaching of genocide, stating that by educating youth on the horrors of the past we can eradicate the complicity of populations to future acts of atrocity.
"Think of the exhibit like the one we have here as a vaccination," Curle said. "Do you think it's possible to create a lesson plan or to give children an educational experience that helps them develop an inner resistance to the germ of genocide?"
Curle concluded his presentation by fielding questions from the audience, during which he implored the educators in attendance to consider methods by which such an "educational vaccine" could be implemented.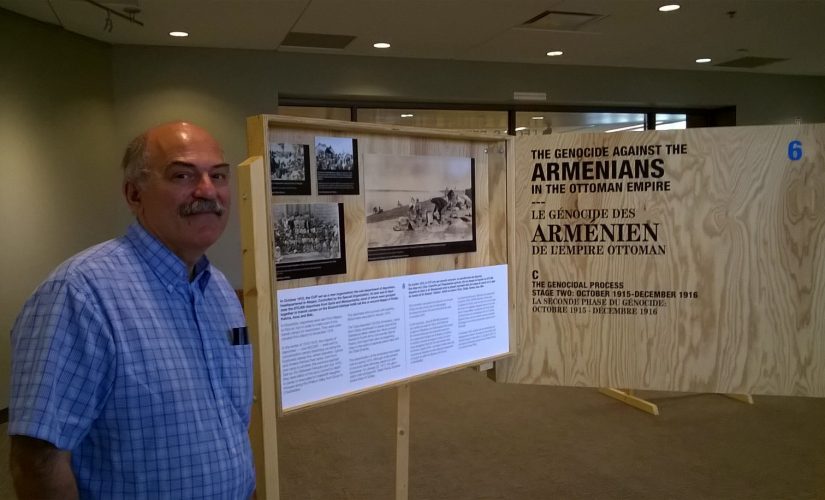 The exhibit, which features pictures and stories of the Armenian Genocide, the Jewish Holocaust and the Rwandan Genocide, is located in the Leon S. Peters Ellipse Gallery on the second floor of the Henry Madden Library.
The exhibit was designed, created and distributed by the Memorial De La Shoah, a Holocaust museum in Paris France, and will be on display from Sept. 1 to Oct. 31.
Coordinator of Armenian Studies Program and Director of the Armenian Studies Center Barlow Der Mugrdechian reached out to the Memorial De La Shoah after seeing the exhibit presented at the Armenian Genocide Awareness Week, an annual event at Scottsdale Community College, at which he was a guest speaker, to host the exhibit at Fresno State.
"It's all about educating people about the tragedy and horror of genocide, about thinking how one can prevent it in the future" Mugrdechian said. "There is so much continued violence in the world. We have to be aware that some of these could lead to genocide if not stopped."