BURBANK — More than 150 guests, including Diocesan Council members, clergymen, benefactors, and civic leaders, AGBU representatives, Woodbury University Board Members among others attended the reception on August 6, 2013, in honor of His Excellency Grigor Hovhannissian, outgoing Consul General of the Republic of Armenia in Los Angeles. Held at the Nazareth and Sima Kalaydjian Hall, the reception was hosted by Diocesan Grand Benefactors Dr. and Mrs. Aramais Paronyan and was emceed by prominent community leader Maria Mehranian.
Mehranian reflected on Consul General Hovhannissian's committed spirit and his valuable role in strengthening the diplomatic relations between the United States of America and the Republic of Armenia. She also noted the Consul General's active involvement in many humanitarian missions and projects.
Dr. Frieda Jordan, President of the Armenian Bone Marrow Donor Registry, expressed her genuine gratitude to the Consul General for his loyal support of the Donor Registry and his participation at ABMDR functions throughout the years. On behalf of the ABMDR, Dr. Jordan presented Consul General Hovhannissian with a special award of appreciation.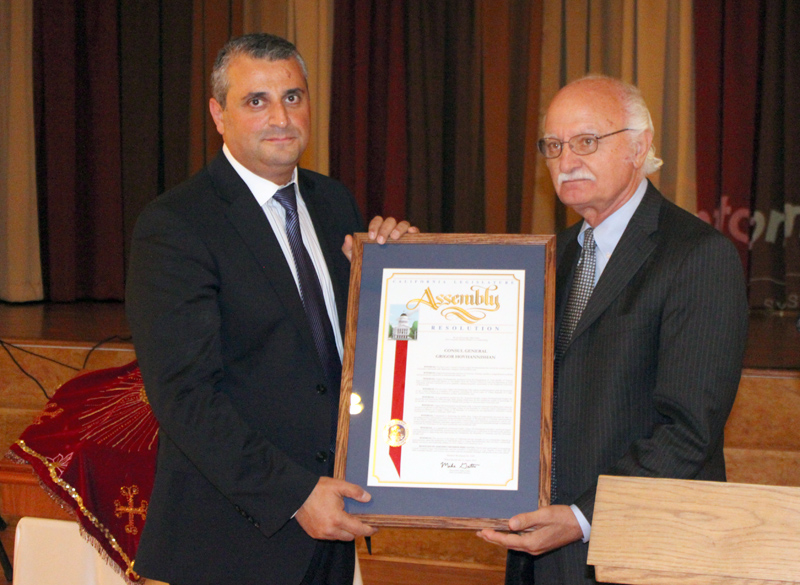 A resolution, drafted by Assemblymember Mike Gatto and passed by the Assembly of the California State Legislature, was presented to Consul General Hovhannissian by Diocesan Protocol Committee Chair Peter Darakjian.
"Dear Consul General Hovhannissian, we commend your leadership and your humble spirit. Throughout the years, you have exceptionally demonstrated your diplomatic expertise as well as your Christian faith which is deeply enrooted in you and your family. Through your kind participation in Diocesan functions, you have been a devout member of the Diocesan family. May Christ, our Savior bless you and your family abundantly and guide you in your future endeavors," said His Eminence Archbishop Hovnan Derderian, Primate of the Western Diocese of the Armenian Church of North America, in his remarks.