GLENDALE — Argentinian-Armenian artist Gagik Vardanyan will have a conversation in Armenian about his his art, life and poetry with film director Vahe Khachatryan at the closing reception of Rizoma: Images of Thought by Gagik Vardanyan on Tuesday, July 31 , 2018 at 7:30pm at Roslin Art Gallery – 415 E. Broadway, Glendale, CA. Admission is free with reception to follow.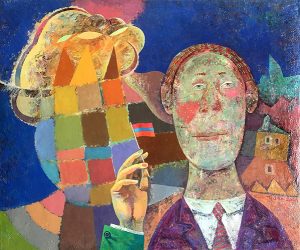 Rizoma is a philosophical concept that apprehends multiplicities and opposes hierarchic, tree-like conceptions of knowledge. It presents history and culture as a wide array of influences with no specific origin. Gagik Vardanyan's art and life encapsulates this experience. Born in Soviet Armenia, Vardanyan grew up and received his education in a socialist, yet homogeneous environment. As he moved to Buenos Aires in his late thirties, Vardanyan became exposed to a cornucopia of new experiences and cultures, filling his palette with an array of possibilities. Vardanyan's pieces transcend boundaries, mixing cultures, histories, communities, as well as physical planes and directions. From figures of Lenin, queer amigas, European harlequins, and pagan satyrs, faces and spaces exist simultaneously in different planes and colors. There is no beginning nor end, no up nor down. Rather, a celebration of the essence and simultaneity of all things.
Gagik Vardanyan is an Argentinian-Armenian artist and muralist. He was born in Yerevan, Armenia in 1960. He attended the State University of Fine Arts from 1975-1978 and graduated from the National Academy of Armenian Arts in 1985. In 1999, Vardanyan moved to Buenos Aires, Argentina with his family. He has exhibited in various halls in Armenia, Russia, Germany, Argentina and the United States. Vardanyan has also been commissioned to paint a number of murals in cathedrals and monuments in Argentina, Uruguay, Brazil, and the United States. In 2018, Vardanyan and his family moved to Glendale, California.