The Armenian Healthcare Crisis is Resulting in Alarming Rates of Late Stage Cancer Diagnosis and Fatality Rates 7 Times That in the US
By Samantha Feinberg
Armenia is facing a healthcare crisis, and the Children of Armenia Fund is stepping in to reverse it. Lack of routine healthcare in rural areas gives the upper hand to killers like cancer, heart disease, and even diabetes, causing many diagnoses to be made far too late. COAF is paving the way against the lack of medical care by providing free of charge healthcare rural Armenian villages.
In Armenia, the 22% death rate following cancer diagnosis is eight times higher than the 2.8% death rate in the United States. This is primarily due to cancer going undiagnosed until it progresses into stages three and four, for which treatment is financially unattainable for patients. Once a diagnosis is made, individuals are often faced with the financial burden of late-stage cancer treatment, and are forced to sell their homes.
COAF's partnership with the AAHPO is bringing experienced specialists to the villages, allowing patients to receive free treatment advice for their diagnoses. "We have gynecologists, an oncologist/hematologist, a vascular surgeon, a dentist, a psychiatrist, a nutritionist and a medical assistant in our team," said Shoghik Kurdian, a US-based dentist of Armenian descent who has just arrived in Armenia to serve as the head of AAHPO.
Lucy Tovmasian, Debra Ferman, Adrine Giritlian, Carla Simonian and others provided professional services. They were accompanied by local doctors, as well as medical students from Armenia and the USA.
To combat late-stage diagnosis, COAF recently provided over 700 breast exams to women in in Armavir and Aragatsotn regions. Of those, 270 women were screened further by ultrasound for possible breast cancer.
Debra Ann Ferman, MD, an oncologist and hematologist, performed screening breast exams, and saw hematology and oncology patients in the villages through the AAHPO's mission. "In Armenia, one can lose his or her house in order to pay for cancer treatment," Dr. Ferman said.
Courses of cancer treatment that these late-stage patients take is the least expensive, which is often the least effective. For example, one of Dr. Ferman's patients w as receiving Herceptin for her Her2 positive breast cancer, which only increases of being cancer free in 10 years by 6%.
"In America we are taught never to compromise care due to the ability to pay," Dr. Ferman said. Many of these patients have no choice but to stick with whatever is the least expensive treatment option because they are unable to access or afford better treatment options. Dr. Ferman as well as other providers on the mission were able to recommend and provide the most effective treatment routes available to them.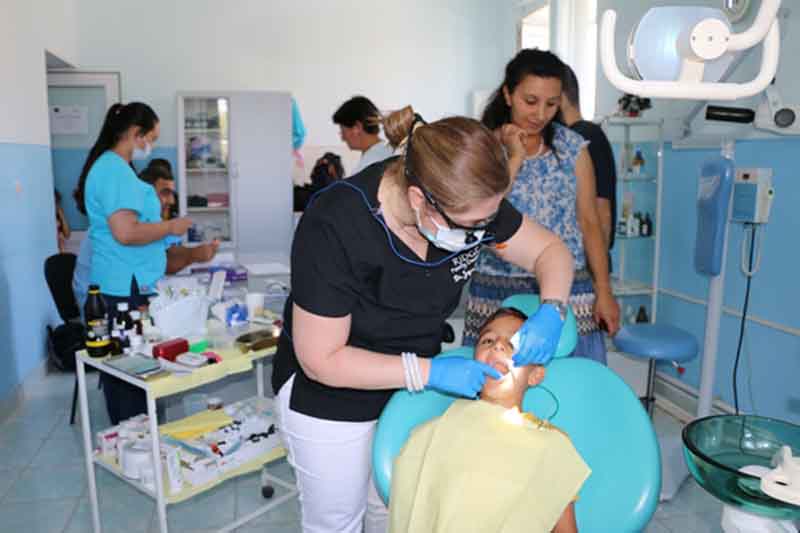 One of COAF's goals is to alleviate the financial burdens of post-diagnosis treatments. The AAHPO recently provided free medical services in Arteni, Karakert, Myasnikyan, Arevatsag, Tumanyan, Panik, Armavir and Alaverdi, all COAF-supported villages. Aida Muradyan, the head of the COAF-supported health clinic in Karakert said, "Most our patients cannot even afford to see doctors in Yerevan, and here they can consult with the best doctors who can help them."
COAF's initiative to provide free healthcare to those who desperately need it is highly respected by the communities. Satik Azatyan from Karakert said, "I am glad my family has been given the opportunity to see several specialists. I am happy they are able to access this kind of healthcare now." Satik visited the vascular surgeon and her grandson was able to receive dental treatment.
Vascular surgeon Greg Simonian says her daughter has been a motivator for him to enroll in the mission. "Two years ago, she visited Armenia with her classmates from Hovnanian School and she just fell in love with this country… She inspired us, and now I am here with my family, trying to help people living in rural areas."
COAF is working not only to provide free of charge medical care, but through providing educational opportunities for children, they are helping spark the next generation of Armenian doctors. Their SMART initiative is changing the rural landscape by providing educational hubs and access to healthcare for students and their families in remote areas. COAF is giving the next generation a window to the world that will revolutionize access to healthcare, and eliminate the glass ceiling over village communities.