YEREVAN — A U.S. general overseeing the Kansas National Guard is visiting Armenia for a third time in less than a year shortly after his troops trained more Armenian soldiers as part of growing U.S.-Armenian defense cooperation.
Major General Lee Tafanelli, the Kansas adjutant general, met with Defense Minister Vigen Sargsian on Wednesday. He reportedly pledged to continue training programs for Armenian military personnel mostly serving in a special brigade that contributes troops to multinational peacekeeping missions around the world.
The Armenian Peacekeeping Brigade has received considerable technical assistance from U.S. Army Europe and the Kansas National Guard. In particular, U.S. instructors have been training the brigade's medical personnel and demining experts. The Armenian military inaugurated a U.S.-sponsored paramedic school in October last year.
Tafanelli's department reported earlier this week that more soldiers of the Peacekeeping Brigade have undergone training at a Kansas National Guard facility in Salina, a small city in the U.S. state. "The Guardsmen and Armenian soldiers conducted training exercises in the Humvee egress rollover trainer and in the virtual convoy simulator," it said in a statement.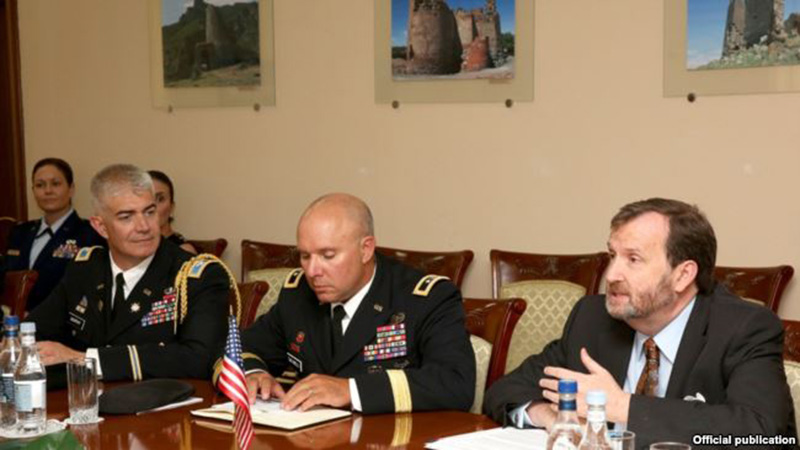 The Kansas Adjutant General's Department also released several photographs of the joint exercises held this month.
The U.S. has also helped Armenia to recruit and train more non-commissioned contract officers. As part of that effort, 25 Armenian army sergeants underwent further training in Kansas in August 2016.
According to the Armenian Defense Ministry, Sargsian and Tafanelli discussed these training programs at their meeting. "The American side expressed readiness to continue cooperation in these directions through long-term programs," read a ministry statement.
Despite its military alliance with Russia, Armenia has deepened defense cooperation with NATO and the United States in particular since the early 2000s. It currently contributes troops to NATO-led missions in Kosovo and Afghanistan and regularly participates in multinational exercises organized by U.S. forces in Europe. U.S. military assistance to Armenia has totaled about $50 million since 2002.
Tafanelli said that U.S.-Armenian military ties are now "as strong as they have ever been" during his previous visit to Yerevan in January. "Each year continues to get better and better with the quality of the engagements and partnership between our two countries," he told RFE/RL's Armenian service (Azatutyun.am).