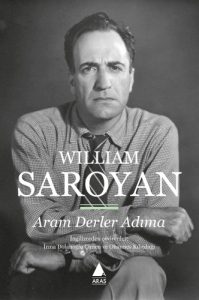 ISTANBUL — A collection of Saroyan's most famous and favorite short stories, is now in Turkish with a brand-new translation.
Internationally renowned American writer William Saroyan's My Name is Aram, a collection of his most famous and favorite short stories, is now in Turkish with a brand-new translation. First published in 1940 and put Saroyan (1908-1981) immediately on the map, the book is based on his childhood memories and his observations of a circle consisting of school, family and neighbors. Through these warm hearted, witty, humanistic and often extremely talky stories, which were soon to become Saroyan's trademark, we witness a child's exploration of human values.
As an immigrant kid whose family had immigrated from Bitlis –an ancient city of historical Armenia and now modern Turkey– to United States, he seeks for the traces of American frame of mind in Los Angeles among Italian, Portuguese, Spanish, Armenian, Chinese, Jewish immigrants. And he also shows us how a poor Armenian kid holds on to life in America, as he recalls all those Anatolian traits, the traits of his "old country", which have left their marks on his identity already in his childhood.
Saroyan is one of the prominent writers who have given different aspects to short story genre in world literature. In recent years, through the books Aras has published, the great writer has reached more and more readers in Turkey.
Here's a list of Saroyans published by Aras:
Cowards (Ödlekler Cesurdur)
Days of Life and Death and Escape to the Moon (Ölüm Dirim ve Aya Kaçis)
The Human Comedy (Insanlik Komedisi)
Seventy Thousand Assyrians (Yetmis Bin Süryani)
William Saroyan from America to Bitlis (compilation) (Amerika'dan Bitlis'e William Saroyan)
My Heart's in the Highlands, The Time of Your Life (two plays) (Yüregim Daglardadir – Yasamak Vakti)
Aras Publishing was founded in Istanbul in 1993 and came to be recognized in short order as a "window into Armenian literature". With its Turkish and Armenian books, it has now established itself as one of the few publishing houses producing works in two languages. Aras Publishing intends to serve as a bridge for the cultural legacy of Turkey's Armenians (now centered around Istanbul as a minority) to reach future generations as well as carrying on as the representative and current bearer of a long-standing Armenian publishing legacy in Turkey.