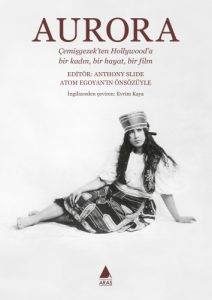 ISTANBUL — A long-forgotten book and a long-lost screenplay about one of the most well-known figures of Armenian Genocide is now in Turkish. Edited by writer Anthony Slide and presented with a foreword by Atom Egoyan, Aurora contains an annotated reprint of Aurora Mardiganian's original account "Ravished Armenia and the Story of Aurora Mardiganian" and for the first time, the full screenplay of the 1918 feature film "Auction of Souls".
In 1915, during the deportation of Armenians in the Ottoman Empire, Aurora was a 14-year-old girl from Çemisgezek. She witnessed horrible events, destruction of her people, and lost her family and relatives one after another. And yet, she managed to survive despite the physical and mental torment. This was just one of those many survival experiences, except that there was a twist, which makes it very unique. Her story was published and then used as the basis of a feature film in which she starred herself.
Two years after her survival, she arrived in the United States and recounted her story to the American Committee for Armenian and Syrian Relief. This story was interpreted by her legal guardian Henry L. Gates, and after being published with the title of "Ravished Armenia", it was presented to the film producers in Hollywood. And so, Aurora, without fully understanding what's going on, had to go through her trauma and remember that tragedy before the cameras over and over again.
Anthony Slide, the editor of our book, dwells on this very matter: while they were presenting Aurora's eyewitness account as popular entertainment for the average American audience, her already wounded soul got more and more damaged. She was forced to make public appearances at each film screening across the United Stated. She was being exhibited. When it became too much for her to handle, Aurora's look-alikes were hired.
Curiously enough, only some fragmented frames survived from a film that was once a blockbuster and broke box-office records. So, just like Armenians, the film had disappeared from sight. And so did Aurora. Yet, since 2016, Aurora's memory is being honored through an international humanitarian award named after her, the Aurora Prize For Awakening Humanity.
While tracing Aurora and the lost film, Anthony Slide draws our attention to a historical tragedy which was condemned to be forgotten, as well as to an evanescent production in the film history.