STEPANAKERT (Artsakhpress) — Over 30 bloggers from 11 countries are taking part in the International Bloggers Forum which is being held in the Republic of Artsakh on March 19-21.
The Forum's major topic is the coverage of conflicts in social media and ensuring the freedoms of bloggers and journalists. The Forum was organized by "Artsakhakertum" NGO and the Union of Journalists of Artsakh.
Attending the event are Anton Nossik (Russia), Anton Merkurov (Russia), Aleksandr Alimov (Latvia), Tarik Hafed (Algeria), Romain Mielcarek (France), Gilad Halpern (Israel), Aleksandr Hoishyk (Belarus), Irina Kovalchuk (Ukraine), Luciano Tirinnanzi (Italy), Petruška Šustrová (Czech Republic) and others.
The Forum is chaired by Artsakh Prime Minister's spokesman Artak Beglaryan and media expert Samvel Martirosyan.
During the Forum Hrachya Arzumanyan – Director of "Ashkharh" ("World") Center of Strategic Research (Stepanakert), expert on military and national security affairs, presented the causes of the Nagorno Karabakh conflict. "It is necessary to help the Azerbaijani people to get rid of "Aliyev clan" disease through the international court where their education to the generation will be condemned as a result of which they beheaded Armenian women, children, as well as cut their ears", Arzumanyan said.
He recalled that it is less than a year that more than 100 young soldiers were killed as a result of military operations unleashed by Azerbaijan. He said they were killed because the center of geopolitical forces once again decided to play with the region. "The experience shows that the geopolitical powers if they don't want to deal with the issue, perhaps the bloggers, as a reality of newly formed public information, can have an influence on the situation", he said.
Artsakh Deputy Minister of Economy Sergey Shahverdyan presented the situation of tourism in Artsakh. He said by saying tourism of the Artsakh Republic, we understand over 15.000 tourists a year, 43 hotels, 3% GDP, 7 tourism companies and licensed tour guides. "The tourists of Artsakh Republic are firstly Russian citizens, than the citizens of the US, Iran and the European countries. The average duration of the visits of tourists is 5 days. There are more than 4000 historical-cultural monuments, 5 reserves, high mountains, green plains, rivers, water reserves, and of course, people in Artsakh who didn't lose their ancient hospitality", Shahverdyan said.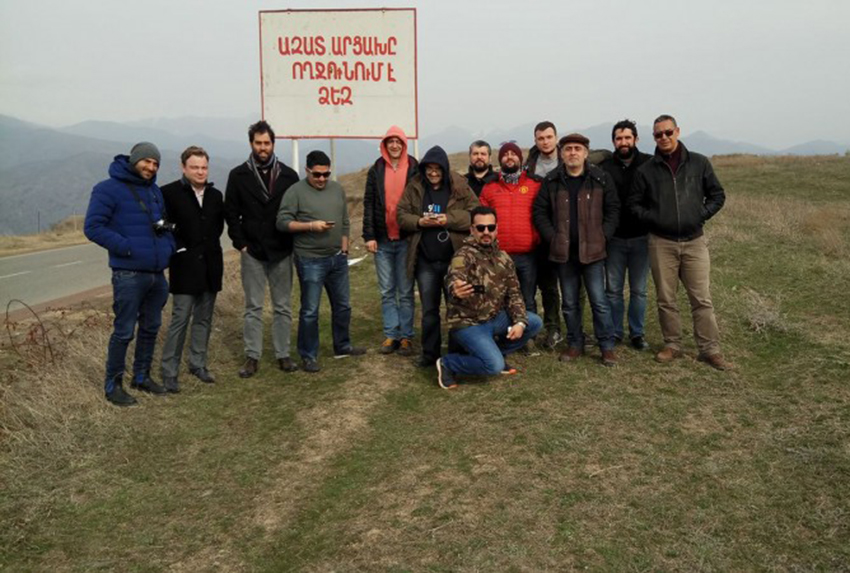 A blogger from Belarus Alexander Hoishk talked about the extradition of Russian-Israeli blogger Alexander Lapshin from Belarus to Azerbaijan. He expressed confidence that this incident was a result of conflict of Russian and Belarusian leaderships.
"I am as well a traveler and understand well what it means to be a minor player in this big game. Unfortunately, this game badly impacted our country's image by the international community. It showed how meaningless it was. We didn't receive any oil, as a result we lost the game in all spheres. I, as a citizen of Belarus, can express my apology, but it is clear that we don't decide such things", the blogger said.
Blogger, journalist from Moscow Anton Nosik said he visits Artsakh for the first time despite that he always wanted to visit here. "There are many people who have no idea about the conflict, but now they are here and it is presented to them. It is very interesting to me and my readers as well will be interested in what I have seen here", he said.
Blogger Artur Merkurov said he is happy to be in Artsakh. "This is very important visit for me since I haven't been here on the one hand, and this is a chance for me to inform the world what is happening here on the other hand. Artsakh surprises me with its cleanness. I think it has a great tourism potential. It is pleasure to visit Artsakh", he said.
Media expert Samvel Martirosyan said the reason of holding this Forum was Lapshin's extradition. "There are many goals, to make Artsakh more visible, to make it recognizable through social media, to establish ties", he said, adding that the bloggers were very impressed with the directness of the children by visiting Tumo center in Artsakh on March 19. They were also impressed with the great desire of children to achieve peace.