YEREVAN — Defense Minister of Armenia Vigen Sargsian had a working dinner with the Foreign Minister of the Hellenic Republic Nikos Kotzias on March 9 who is on an official visit in Armenia.
According to the press service of the Defense Ministry of Armenia, the sides discussed a broad scope of issues referring to the environment of regional security, bilateral relations, and cooperation prospects.
Highlighting the existing high level political relations between the two states, Vigen Sargsian singled out the defense sphere, where rich traditions of cooperation and productive mechanisms have been developed. The Armenian Defense Minister informed about the agreements reached with his Greek counterpart in the sidelines of his official visit at the end of last year and their implementation process. For his part, Nikos Kotzias reaffirmed the readiness of the Greek side to implement defense programs with Armenia.
More than 200 Armenian cadets and army officers have been trained in Greek military academies over the past two decades. The Greek military has also provided assistance to an Armenian army brigade that contributes troops to NATO-led peacekeeping missions abroad.
The two ministers also exchanged ideas over recent regional military-political developments, neutralization of existing challenges and agreed to continue supporting each other's positions on international platforms.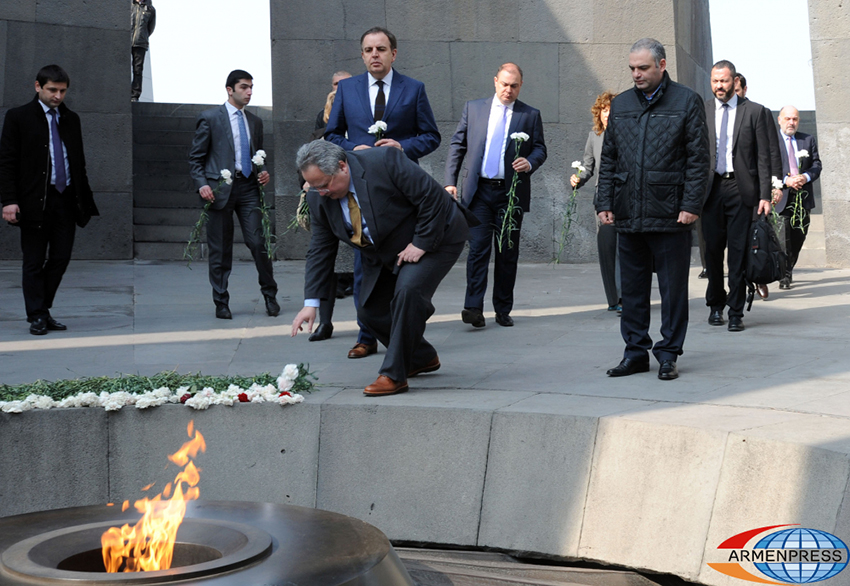 Kotzias visits Genocide Memorial
Nikos Kotzias visited the Armenian Genocide Memorial on March 9. The minister laid a wreath at the memorial and honored the memory of the innocent victims of the Armenian Genocide with a moment of silence at the Eternal Flame.
Accompanied by Hayk Demoyan, director of the Armenian Genocide Memorial-Museum, the Greek FM toured the museum and got acquainted with the history, tragic episodes and realities of the Armenian Genocide.
Before departing from the Memorial, minister Kotzias made a note in the Guestbook and received an English copy of the "International Media's Front Page coverage of the Armenian Genocide" book from Demoyan.