YEREVAN — Three relic-chests have been discovered during the excavations of the mausoleum of Armenian Arsacid kings in Aghdzk village. Two of them have already been opened revealing the relics of the members of the Armenian dynasty. The third one was supposed to be empty, however the professional "instincts" of archaeologist, head of the Aghdzk expedition Hakob Simonyan, did not let him down. The relic-chest was full of human remains and relics.
The chest remained open only for a few minutes as the chemical composition of the relics are to be examined in the coming future, DNA analysis is to be conducted to reveal the genetic construction of the dynasty.
In the words of the head of the expedition this chest, like the previous two ones, contain the bones of the men, women and children of the Armenian dynasty.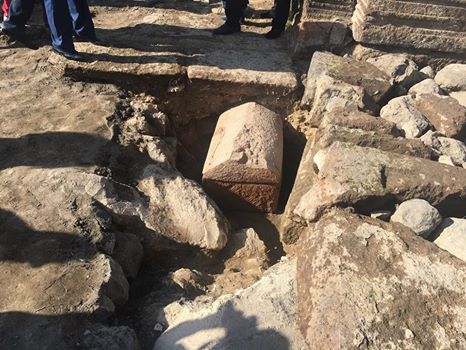 Archaeological excavations in the Aghdzk village mausoleum have been carried out in several stages. They launched in 1974 up to 2001 and the last phase kicked off in 2014. Minister of Culture Armen Amiryan told the reporters that 15 million AMD was allocated from the state budget to carry out excavations in the monument, in 2016 17 million AMD has been allocated. An equal amount of money is planned to be allocated in 2017 as well.
"The activities show that we should proceed the excavations, the necessary funds are just to be allocated for us to be able to establish infrastructures in addition to the excavations and studies," the minister noted.
Notably the opening of the relic-chest has been attended by National Assembly Speaker Galust Sahakyan, MPs, the residents of Aghdzk and its neighboring villages.
"The Persians believed that the bones of the Armenian kings bore an enormous power which protected the Armenian kingdom. Thus King Shapur of Persia exhumed the bones of the Armenian kings and attempted to take them to Persia allegedly taking Armenia's power. However, Sparapet Vasak Mamikonyan defeated the Persians and reclaimed the bones of the Arshaluni monarchs, he buried them at Aghdzk.
We all believe that the remains of the saints kept in Vatican have magical power. This means the people of the 21th century believe in it. We believe that the bones of our Armenian kings possess a great power. We have discovered that bones and we are sure that the rebirth of Armenia is close. We will see Armenia as powerful as under Arsacid kings," head of the expedition H. Simonyan noted.